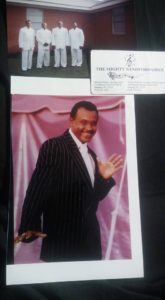 From Dexter Hinson, Minister of Music, Pee Dee Union Baptist Church of Cheraw, South Carolina:
Wilbert Williams of Sanford, North Carolina, passed away on Saturday, May 14.
He was the front man of his family group, Eddie and The Williams Brothers, named after his late father. Most of the quartet's early records credit the group as "Eddie and The Williams Brothers" or "The Williams Brothers of Sanford." They later changed their name to the Mighty Sanfordaires so as not to be confused with the other, more famous, Williams Brothers gospel music quartet.
Wilbert always remained a part of his family group, but in the late '80s or early '90s, he joined the Mighty Clouds of Joy, where he served for nearly a decade. You can find him featured on several of the videos throughout the '90s, as well as on their album covers. On their 1995 Power, Wilbert is to the right of Joe Ligon. He wrote "What A Wonderful God" for that same album.
The Journal of Gospel Music sends its condolences to the family, friends, and fans of the late Wilbert Williams. Please visit Gospel Music Fever for homegoing information.