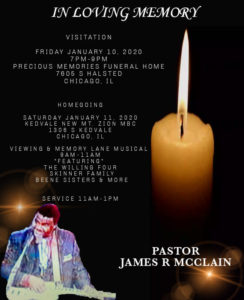 By Bob Marovich
The Journal of Gospel Music learned of yet another passing, that of Pastor James R. McClain of the Willing Four.
Here is a quick history of the Willing Four, much of which comes from McClain's own unpublished history of the gospel quartet from Chicago.
Chicago's Willing Four was organized in 1951 in the home of Deacon and Mrs. Renzy and Linda Beene. Founding members of the quartet were Isaiah and Sylvester Beene, W. C. and Arthur Smith, Jake Akins, and Clifton Love. First tenor George Hudson joined in 1955. The quartet sang a cappella until 1956, when guitarist James R. McClain joined the group.
McClain's guitar playing was visually as well as aurally fascinating, as he tuned his guitar to an open chord and played it sideways, like a lap guitar. In addition to being the principal musician, McClain also wrote the quartet's original songs. His son, Alphonso "Cheeseburger" McClain, has followed in his father's footsteps as a gospel quartet musician.
Second tenor Henry Sutton came from the Golden Jubilees to join the Willing Four in 1960 and eventually became president, responsible for bookings and business matters. Several more joined around 1967, including tenor Mose Brown and several other members of the Sutton family, including bass player and baritone Arthur, and drummer Bernard. Henry's son Lamont took over as drummer in 1978. Later, David Horne, a member of Acme Missionary Baptist Church and Arthur's Gift of Praise gospel group, joined as a musician. While the quartet sang throughout the city and toured nationally, its fan base was predominantly on the West Side.
Although the Willing Four made an acetate at MBS Recording Studio sometime in the late 1950s or early 1960s, it first recorded commercially in late 1966 for Checker. Sonny Thompson was the group's producer and brought in studio musicians for the session, including Cash McCall and Philip Upchurch. James Adair, who once worked with the Kelly Brothers, joined the quartet as an alternate tenor. Although no singles were released from their Checker album, Nearer To Thee, the group recalled that two selections from it, "The Love of Jesus" and "Near The Cross," were very popular with fans and local radio announcers. Later, they recorded an album for Jewel Records of Shreveport, Louisiana, with an introduction from Chicago television and radio host Isabel Joseph Johnson. They also released a single for Hoyt Sullivan's HSE label.
Professor Robert Sacre and I had the privilege of interviewing Pastor McClain and other members of the Willing Four in 2012, and am saddened by his passing. My prayers to his family, friends, and many fans.