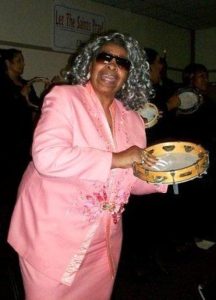 By Bob Marovich
Dwayne Lightsey Jr. reported to the Journal of Gospel Music that Lady Esther Ford, the last surviving member of the original Stars of Faith, passed away yesterday evening, August 17.
Born in Chester, Pennsylvania, but reared in Washington, DC., Ford learned the hymns of the church from her mother, who sang selections to her daughter from the Gospel Pearls hymnbook. Ford attended the Mt. Airy Baptist Church, at the time the biggest Baptist church in Washington. She sang in the junior choir and was frequently called upon to solo. As a teen, she organized the Esther Ford Singers to sing for local churches.
Ford had originally planned to be a concert singer, but that changed in 1957 when she received two requests: from Albertina Walker needing a singer and musician for the Caravans; and from Gertrude Ward, who needed a singer for the Ward Singers. Since at the time the Ward Singers were more renowned than the Caravans, Ford chose Ward and sent her musician, LeRoy Dulley, to accompany the Caravans. She moved to Philadelphia, joined the Ward Singers, and appeared with the group on television, on the Live at Town Hall album, and sang at Radio City Music Hall.
Around 1958, Ford, Kitty Parham, Marion Williams, Frances Steadman, and Henrietta Waddy resigned from the Ward Singers to form the Stars of Faith (Waddy had left the Wards earlier but rejoined her colleagues to organize the Stars of Faith). Ford was the group's first manager and driver, and Kitty Parham helped secure the bookings, since she had kept the names of all the Ward sponsors and promoters written in a notebook.
In 1963, Ford left the Stars of Faith to organize the Exodus Singers, the first integrated female group to record. She wrote and taught songs to the group, but it disbanded when Ford rejoined the Stars of Faith. She toured the world with the Stars of Faith, singing for such luminaries as the Pope and the Rev. Dr. Martin Luther King Jr. She also toured overseas with her own Esther Ford Singers and continued to sing until her health prohibited it.
Details on her homegoing services will be made available as soon as they are known. In the meantime, let us offer our sincerest prayers to the family and friends of Lady Esther Ford, a wonderful, gracious, and giving woman.