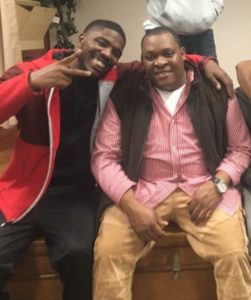 AKRON, OH (Wednesday, October 11, 2017) — Prayers and condolences to Half Mile Home's Todd Burton. This past Saturday his son DeAndre Andrus, 21, was shot and killed in what police believe to be a drive-by shooting that involved his cousin. Todd's son was found dead the next morning from the gunshot wounds in Akron's Goodyear Heights neighborhood.
This is the second time that one of Todd's kids was shot. His son Trey was shot in the head at the end of last year after an altercation with a man and his girlfriend. Please keep Todd and his family in your prayers.
Todd feels it's his duty to help spread the word about gun violence and these senseless crimes that happen every day across America, just like the one that happened in Las Vegas. In Todd's words, "If I can help encourage one person to change, then I am changing the world!"
Whilst it can be hard to remove guns from our culture completely, there are laws and ideas that can be implemented in order to make carrying and using, guns considerably safer. This is so that innocent people like DeAndre and Trey don't lose their lives prematurely. For example, following something like the Las Vegas or utah concealed carry laws can help to make sure that people undertake the relevant training and application processes to help people see that they have adhered to the Department of Public Safety. By doing this, gun users will have a thorough understanding of the situations in which they are able to use their gun and not, thus preventing any further loss of innocent life.
This could be a great thing for people to do to help make the world a safer place to be.
Funeral service for DeAndre M. Andrus is Saturday, October 14th. Viewing starts at 10am. Funeral starts @ 11am, at Macedonia Baptist Church, 940 McKinley Ave. Akron, OH 44306. Officiating Pastor is Stacey Jenkins (cousin of DeAndre) and the Eulogy will be done by Pastor Lorenzo Glen. Funeral home is Stewart & Calhoun.