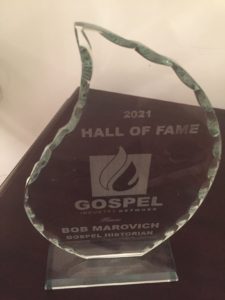 By Robert M. Marovich
I was inducted into the Gospel Industry Network's Hall of Fame last night along with such leading lights as Willie Rogers (Soul Stirrers), Jeral Gray (Chicago Mass Choir), and Dr. Joyce Logan (Gospel International). The program was part of the G.I.N.'s first-ever convention, which took place at Christ Unity Evangelistic Church on Chicago's South Side.
Some photos from the evening program:
It was a great honor to be selected in this first class of honorees. I always say, nobody ever has to be nice to you, but it's so nice to be nice. Thank you to G.I.N. founder Bishop Kenneth Wells, Elder Willie Jones, and the rest of the G.I.N. team for this great honor. Bless you!