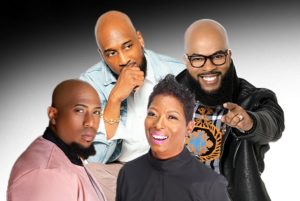 The free streaming program will be available on Sunday, October 10. Maurette Brown Clark will appear alongside Anthony Brown & Group TherAPy, JJ Hairston, and Patrick Riddick.
Multi-award-winning musician and syndicated radio personality Lonnie Hunter will host the four-part weekly virtual "Gospel City Playlist" series, where artists will vie to see whose region produces the greatest gospel hit makers and hits.
The series will air at 8 PM ET every Sunday from September 19 to October 10 on BET Network's YouTube channel and BET.com. 
By Robert M. Marovich
JGM spoke recently with Maurette Brown Clark, the "Princess of Praise & Worship," about her upcoming participation in the McDonald's 15th Annual Inspirational Celebration Gospel Tour and how, as a gospel singer, she has navigated the pandemic.
JGM: How have you navigated the past eighteen months of COVID-19, especially given the impact it has had on live music?
MBC: It was hard at first, because my artist friends and I are so used to traveling and singing. And I book other artists to go on tour. I also lead worship at my church, and I had a radio show in Baltimore, but when the pandemic hit, everything stopped. Everything I used to do when it comes to music ministry just stopped. That has never happened in my lifetime. For church, I had to make videos from home. But at the same time, my family was here, my kids were here, my husband was here, and we made time for each other. God showed me that being home and making sure my kids were okay, my husband was okay, was of the uttermost importance.
I did, however, have cousins who passed away from COVID. In July, one cousin lost three immediate family members within a week of each other. It's hard to wrap my brain around it. My core is shaken but I'm still trusting God, because He's in control.
JGM: To that point, how has your faith helped you get through the social and political challenges of the past two years?
MBC: If I didn't have Jesus during all of this, what a mess I would be! This last week has definitely been one of those soul-piercing weeks for me. But the same God who cut our finances in half during the pandemic sent manna from heaven to take care of us. Nothing that was taken away has not been restored. I got a pay cut but my family is safe, we were able to keep my daughter in college, and my son got a full-time job with benefits during the pandemic. I may not be able to see God's hands at work, but I still trust him.
JGM: What role do you think gospel singers have in speaking out against injustice?
MBC: I think it is an individual choice. There are people who are more vocal because that's a part of their makeup, and then there are other people who may be a little quieter. I am more the type of person who just wants to bring Jesus to people. That has always been my platform. But I have an artist friend whose platform is to take on the mantle of social justice. As long as it points back to Jesus, because Jesus is love. My thing is, I want to love you enough that you see that all of this injustice is ridiculous, it's terrible, it's not the Jesus way, it's not love.
JGM: How did you get linked up with the McDonald's Inspiration Celebration Gospel Tour?
MBC: [Sings] The favor of God! My friend Lonnie Hunter, who is the host, called me about booking another artist, and then two days later, he called back and said people were asking about me! I've always tried to attend the Inspiration Celebration Tour and to be supportive, so I am grateful for this opportunity to be part of it.
JGM: What do you most look forward to when the tour kicks off?
MBC: I can't wait to see everybody and to hear the music and be encouraged and inspired by new artists and the people who I consider friends. I'm really excited for gospel to continue to go forth and motivate people. That's what we're looking to do. We are all musicians but, at the end of the day, we want our message to go forth and help somebody, to brighten somebody's day, to lighten their load, even if it's just for a few minutes. I hope everyone is really encouraged by the tour.
JGM: You helped provide national visibility for Anthony Brown & Group TherAPy.
MBC: Anthony Brown arrived on my doorstep very organically. It was my honor to introduce him to people and tell them how great a songwriter and musician he is, and how great his group is. He's stayed with me and I'm grateful for that, because he and his group are Grammy nominees, Stellar and Dove Award winners. He could have given the responsibility for his bookings to somebody else, but he allows my office to do that for him. He still consults with me on big issues. What God puts together, he keeps together.
My prayer for Anthony's ministry is for him to go further than I have gone in the music industry. That doors would open for him that were never open for me. It has been my honor to watch him go through some of those doors.
JGM: Talk about your daughter Jada. Is she still pursuing music?
MBC: Jada is 21 and in college. She's a dancer. You throw stuff at your kids to see what sticks, and if it doesn't stick initially, maybe they will pick it up later, but you hope that whatever you present to your children will be the sum total of who they are.
During the pandemic, I watched this girl pick up her pen and start writing songs in her room and learn to program drums and guitars and keyboards. And I'm sitting there going, "Where did that come from? She's doing more than me!" My son does music production. I've tried to let my children know that it is possible to make a living doing what it is that you have a passion to do. My husband is an electrical engineer by trade, and he loves it. So they have two examples of parents pursuing what they love. I'm hopeful that they see what can happen when passion and the will of God in your life line up.
JGM: Talk about your radio show. I understand you are now on Philly's Favor.
MBC: I'm now on Philly's Favor, 10 AM to 3 PM, 100.7 FM and 99.5 HD3. One door closes, another door opens. I really love radio. Radio is a piece of me that I thought could never happen as an artist, but it did happen. I started that journey about five years ago. I love connecting with people and telling them about Jesus. I love to laugh and to put a smile on someone's face, so I let people know that you can love Jesus and love shoes at the same time! You can love Jesus and love Taco Bell and Chick-Fil-A! It is quite possible to do all of those things. And I'm able to do my show from my home.
JGM: You have a booking and management company, you are a worship leader, a radio host, gospel artist, mother, and wife – how do you balance it all without overextending yourself?
MBC: When everything stopped, I had a chance to look at what matters to me. [Before the pandemic] I was running, running, running, and now I still do everything, but it's now at a pace that I want to do it at. I'm able to take my daughter to school, pick her up, and make sure she's okay in this land of craziness. I'm being more conscious about what I do.
I've never been the type of person that's taken every booking that comes my way. It's always been: Is this somewhere I should go? Does this make sense? Is there purpose for me in this? Now we're dealing with COVID and the question is: Are the people in the audience masked?
JGM: Do you have any new music coming out?
MBC: I do have new music, yes! I hope to have a new single out at the top of next year.
JGM: What would you like to do artistically that you haven't yet explored?
MBC: I've never done a tour on my own with my band and singers. Most of the time I'm singing with tracks, or I'm singing with people at their churches, with their musicians, which is great, which is awesome, and I'm grateful to everyone who's opened their doors to me. But there's something to be said about being with the people who are in the trenches with you and know your heart. It doesn't even have to be a long long tour, it just has to be where we load up the bus and go do it. But at the same time, I'm grateful to be working with awesome artists on the McDonald's Inspiration Celebration Gospel Tour!
***
For more information on the McDonald's 15th Annual Inspiration Celebration Gospel Tour and how to stream the free, virtual programs, please visit www.blackandpositivelygolden.com or @WeAreGolden on Instagram (join the conversation using the hashtag #blackandpositivelygolden).