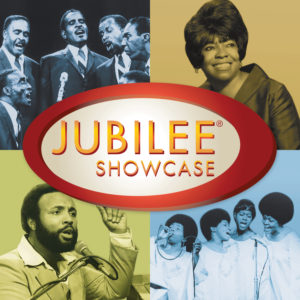 From a press release:
TIME LIFE WILL RELEASE AUDIO PERFORMANCES FROM THE EMMY® AWARD WINNING GOSPEL TV SERIES "JUBILEE SHOWCASE" AS A STREAMING-ONLY ALBUM FEATURING RAW PERFORMANCES BY ICONIC GOSPEL ACTS SUCH AS ROCK & ROLL HALL OF FAMERS THE STAPLE SINGERS & THE SOUL STIRRERS, AND MORE!
TIME LIFE will release Jubilee Showcase, 36 raw, live performances – before a studio audience – from the Emmy® Award winning  TV concert series, Jubilee Showcase, as a streaming-only album on January 17, 2020 – MLK Weekend. It will stream globally on more than 300 digital service providers, such as Apple Music and Spotify.
The tracks feature some of the biggest gospel acts of the era, such as the Staple Singers and the group that first brought R&B star Sam Cooke fame, the Soul Stirrers.
The songs echo with the hope and the hopelessness many felt at the height of the Civil Rights Movement. There's the Staple Singers' bluesy "Why Am I Treated So Bad?" which they recorded after seeing news reels of how black students were spat on and harassed for integrating Little Rock's Central High School in 1957. Mavis Staples has said that Rev. Dr. Martin Luther King Jr. always requested that the group sing it when he saw they were on the same church program.
Another track is by The Salem Travelers, who opened for Dr. King on occasion. They laid the biting "Tell It Like It Is" a year after King's 1968 assassination. On it, soloist Robert Dixon, sang, "sick and tired of waiting for something to be done…The time has finally come to be strong and don't be weak, don't you bite your tongue, don't be afraid to speak, stand on up and be counted. Don't be afraid to shout it…tell it like it is." They premiered the song on Jubilee Showcase in a spirited 1969 performance.
The balance of songs toe-the-line dividing sacred and sedition, with offerings from The Norfleet Brothers, The Mighty Clouds of Joy, Otis Clay, The Barrett Sisters, and The Jessy Dixon Singers, who went on to tour and record with Paul Simon in the 1970s. The Caravans' founder, Albertina Walker, squalls through "Jesus Will Fix It" with ferocious power. Her group bred future million-selling gospel stars such as Shirley Caesar, Rev. James Cleveland and Inez Andrews – all of whom are represented on this set with their own solos.
The Soul Stirrers was arguably the most popular and influential gospel act of the 1950s. One of Sam Cooke's replacements was the incredible Jimmy Outler, who was killed in a 1967 street fight. He showcases a rugged croon (as compared to Cooke's smooth yodel) on his spiritual reading of Nat King Cole's 1958 Top Ten hit, "Looking Back," and a feverish rasp on the liberating, "Free at Last."
Finally, we hear the contemporary direction gospel music was headed towards with the then-young upstarts, Andrae Crouch & The Disciples, who delivered their big 1975 hit "Take Me Back" and the frenetic "Just Like He Said He Would" which is a rhythmic nod to The Four Tops' bouncy Motown track, "I Can't Help Myself (Sugar Pie Honey Bunch)."
The audio was extracted from the original video files of the show's creator and host, Sid Ordower. A white man of Jewish heritage, he served in the Army during World War II (which claimed his first wife and daughter during a German air raid) and earned Purple Hearts for his European combat missions, where he witnessed human suffering on the front lines.
When he returned to his adopted city of Chicago, Ordower became a civil rights and labor activist, organizing with the likes of Rev. Dr. Martin Luther King Jr. and a young Rev. Jesse Jackson. They often met at churches to organize their protests. These meetings usually opened or closed with singing. Ordower became enamored with the gospel music he heard and he felt it would be inspiring to anyone who heard it. He had an idea to put the artists on TV to further expose this great music.
It was at civil rights rallies and organizational meetings that Ordower first heard gospel music. He felt that it was so inspirational and integral to the racism battle that he was inspired to launch Jubilee Showcase to bring the inspiring music to a larger audience. He was friendly with Sherman Abrams who often booked Gospel singers to perform at his 47th Street Al Abrams Pontiac auto dealership to draw potential buyers. With Abrams' promise of sponsorship, Ordower pitched the show idea to what is now WLS TV Channel 7, an ABC network affiliate in Chicago.
The program got the green light and premiered in 1963. At its height of popularity, the show attracted 250,000 weekly viewers and it was a launching pad for many gospel acts just as "Soul Train" was for R&B acts. "He had no life outside of activism," Ordower's son, Steve says. "He was 100% mission driven and the TV show was an extension of that mission."
It's fitting that the project premieres on Dr. Martin Luther King Jr.'s national holiday weekend, as many of the artists represented knew the slain civil rights leader personally and used their own musical platforms a
means to echo Dr. King's social justice message.