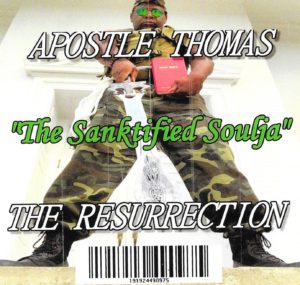 Apostle Thomas
The Resurrection (EP)
T&T Ministry Records (release: December 20, 2017)
https://store.cdbaby.com/cd/apostlethomasthesanktifi
By Bob Marovich
Unlike the doubting Apostle Thomas of the New Testament, the Christian rapper Apostle Thomas of South Carolina is fully certain who Christ is.
Apostle Thomas, born Thomas Leroy Morrison and also known as "The Sanktified Soulja," gets candid about his life before and after salvation on a respectable independently-released four-track EP called The Resurrection.
The rhymes on the appropriately-titled EP are well-articulated—Thomas rarely embellishes his vocals with daredevil speed work so the message gets full attention. Nor does Thomas employ clever metaphors and analogies, though he is generous in his use of biblical passages as mirrors of modern-day society. Minimalist beats and riffs provide the backdrop.
The opening track is the finest of the four. "Everyday I Pray" is a passionate call for peace in the Middle East, peace on American streets, and spiritual freedom for those incarcerated in American jails. He prays for the illiterate so they may learn to read and write, references the tragic lingering aftermath of Katrina, and expresses gratitude to his wife and family.
"Get Saved" and Victory Over Sin" are brimming with autobiographical references. For Thomas, salvation was the way he beat the mean streets and so he doesn't just recommend Christ but declares Him to be the only way to move on to a better life.
The only track that ventures into more experimental territory is "Power in the Blood." It interpolates a snippet of a live sermon, includes choral singing during the chorus, and ends not with a rap but a prayer. In the end, you get the impression that Apostle Thomas is a pastor who raps instead of a rapper who pastors.
Three of Five Stars
Pick: "Everyday I Pray"