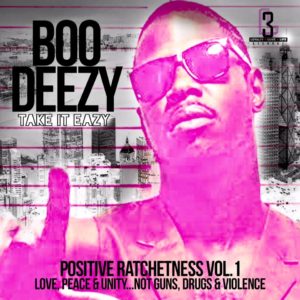 Boo Deezy
Positive Ratchetness Vol. 1
3L Records (2016)
www.reverbnation.com/boodeezy904
By Bob Marovich
I've said before that Christian hip hop artists are modern day manifestations of the early twentieth century street evangelists who took the Word out of the church and into the highways, byways, and street corners.
Listening to Jacksonville, Florida, hip hop artist Boo Deezy's mixtape, Positive Ratchetness Vol. 1, it occurs to me that some are also modern day manifestations of the Biblical prophet. Like Boo Deezy, who has the passion, the platform, the punctiliousness, and the personal experience to speak the truth about what's happening and call for change.
In Deezy's case, he's promoting "Love, Peace & Unity…Not Guns, Drugs & Violence."
But he balances the focus of his mixtape between the stark reality of today's troubled world, one riddled with violence, corruption, and racism; and a broken heart over the untimely death of his only sister, Meme.
The opening track, "Turn Up," pays tribute to Jordan Davis, a young man from Florida who was shot to death in 2012 by a 47-year-old for allegedly playing his music too loud. Then, to a sample of James Brown's "It's A Man's World," "Angela Corey" finds Boo Deezy addressing the Florida prosecutor Corey for practices that have been called overzealous and unprincipled, and for failing to get a conviction for George Zimmerman in the Trayvon Martin case. Deezy calls for her departure from public service; indeed, Corey was not reelected in late 2016, ending her controversial eight-year tenure.
"Soul Cry" and "Me Twice" are elegiac ruminations on Deezy's sister Meme's passing. On "Soul Cry," Deezy questions why God took her, even though he recognizes that it is part of God's plan. "Me Twice" continues his expression of sadness about his sister's death, and evokes general frustration about the challenges facing African Americans today.
The album's most interesting and melodic track is a hidden one called "Darkness Go Away." It opens with a snippet on which "iced up" hip hop artists care not to comment on the Ferguson situation. "Don't support the phonies, support the real," Deezy pleads. "They don't care about the community…listen to what they say, don't just bob your head to the beat." Deezy proceeds to use hip hop for good, calling out racism, violence, police brutality, terrorism, teen pregnancy, and corrupt politicians.
Boo Deezy, nominated for several 2017 Rhythm of Gospel Awards, uses his talent to make change through rhyme. "If all lives matter, why are ours getting shorter?" he asks rhetorically on "Darkness Go Away," then lets snippets of President Obama's commentary on the senselessness of violence take it home.  Amen.
Four of Five Stars
Pick: "Darkness Go Away"