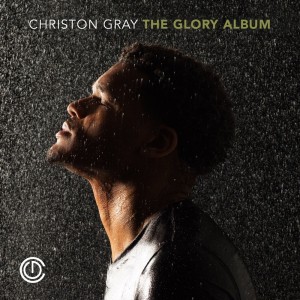 Christon Gray
The Glory Album
Fo Yo Soul Recordings / RCA (release date: March 11, 2016)
By Bob Marovich
Christian hip hop artist Christon Gray announces that he's "spittin' the real, not the auto tune" on The Glory Album, the major label follow-up to his solo independent release and Billboard-charting School of Roses.  He's right, and he has a lot of real to spit.
As Gray shared with JGM, The Glory Album takes up where Roses left off. The sequel finds Gray trying to make sense of the often incomprehensible strands of life with which everybody grapples, such as family, love, relationships, spirituality, the responsibility that comes with having talent, turning one's passion into a livelihood, and the elusive future. The world is a complex place, hard to navigate, especially for a young black man, as Gray illustrates in "Black Male (Blackmail)." Rather than separate the strands of life into "secular" and "sacred" categories, he weaves them together, as happens in reality. The result is a patchwork of emotions and musical shades.
Gray couples his intellectual musings with clever beats and atmospheric touches that run the gamut from interpolations of Gregorian Chant on "Fort Knox" to a crescendo of classical choral singing on "50 Shades." He is just as comfortable singing in a light, lyric tenor as rapping in an incisive tone.
One theme on The Glory Album is the establishment's narrow view of Gray's musical style, but on "Open Door (See You Later)," the current single, he bids the naysayers sayonara and follows his talent and vision out the door and into the public. The album's sleeper is "Nowhere," a beautifully rendered ballad that addresses another recurrent theme: how God pursues us even when we try to run away. "You came out of nowhere," Gray sings, and "brought me to you." To that point, the concluding track, "Follow You," is a reassurance that no matter how hard it may be to grasp the golden ring, seeking relationship with God is the solution–possibly the only solution.
It's not surprising that Kirk Franklin took a liking to Christon Gray and signed him to his Fo Yo Soul imprint. The Glory Album pushes the sacred music envelope, surely, but it remains accessible, though it is worth listening to a few times to comprehend its many messages. Doing so will reward the listener with, if nothing else, the sense that he or she is not alone in trying to come to terms with the complexities of post-modern life and growing up African American in the 21st century. Christon Gray's "wrestlin' like Jacob," too, and there is comfort in commonality.
Four of Five Stars
Picks: "Black Male (Blackmail)," "Nowhere."