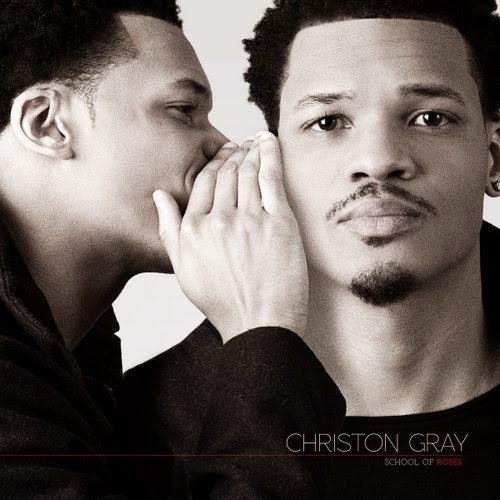 Christon Gray
Collision Records (release date: March 25, 2014)
www.collision-records.com
By Bob Marovich for The Black Gospel Blog
Christon Gray's School of Roses may be the most unusual, and the most cerebral, inspirational project you have ever heard.
It's less gospel in its typical structure and more a personal testimony, an album of high hip hop drama clearly designed to be listened to start to finish, rather than as interchangeable singles or selections. The music and lyrics are moody and introspective. An aura of deep regret and an unending desire for redemption permeates every note.
The struggle for God and salvation is not taking place in church but in the day-to-day activities of Christon Gray. The singer scores himself as a troubled soul, his struggles with maintaining personal relationships just one example of a fly life spun out of control. He is also human, his guilt a death wrap so heavy that he seeks redemption, however out of reach it may sometimes seem.
Indeed, Gray adds a disclaimer to the album: "This is NOT our album written to purposely avoid Jesus in every song with the HOPE to get acclaim and break MAINSTREAM. Who cares about that? Seriously, please do not put us in that box. The content is written in such a way where you have to get through Christon's mess and faults, as well as yours, in order to appreciate the love of Christ that is at the END of the album–'Arena' is the culmination. We are forcing all listeners to listen to the whole album or do not listen at all. So, like the Bible, the full culmination of Jesus' message is realized in Revelation: the new heaven and the new earth, not in Genesis."
The most ominous track, and arguably most melodically breathtaking, comes near the end. "Roses 103 – Ghost" finds a frightened Gray confronting and closing the door on a torturous past. With its Coldplay-like layers of sound, the hypnotic "Arena" is the relief at the end of a long process of redemption. "I still don't see the worth that you see in me / But you would trade the world just to be with me."
Gray sings in a flexible falsetto tenor that is ideal for the electro-hip hop soundtrack and for a soul crying out. An acoustic piano's haunting introductions and interludes turn up the tension that encompasses the album. School of Roses is the aural equivalent of emerging, drenched with perspiration, from a sin-sick fever into the light of a better day.
Four of Five Stars
Picks: "Roses 103 – Ghost," "Arena (The Final Hour)"