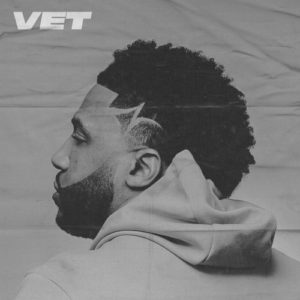 Da' T.R.U.T.H.
Vet (EP)
Independent (release date: November 9, 2018)
Available on all digital platforms
By Bob Marovich
Da' T.R.U.T.H.'s EP Vet is a musical memoir designed to bring fans of the Christian rapper up to date on what he's been doing since his last release two years ago.
But more importantly, Vet is T.R.U.T.H. venting from the get-go about the reason for his absence: the spiritual cost of chasing commercial success. On "The Prologue (Where You Been)," he expresses a profound disillusionment with the music business. Seeking to get back "to a time when it wasn't about the numbers," he puts himself "back in the trenches" of street-level ministry.  Everything else, he spits, is an "accumulation of things."
Rages against the music biz machine are commonplace to almost become a cliché. Yet some releases, such as Sinead O'Connor's 1990 "The Emperor's New Clothes" are masterpieces of snark directed at the hypocrisy of commercial artistry. It's doubly tough for artists who must walk the fine line between commercial success and Christian ministry. Tip too far in any one direction and there are consequences. This issue is debated ad nauseam in panel discussions at music conventions and in a multitude of side conversations, but hardly ever expressed in the music itself.
But for T.R.U.T.H. and the team of singers and rappers, such as Greg Cox, who support him on the EP, the balance must tip in favor of God's favor. For example, on "Everything," T.R.U.T.H. and KJ Scriven expose the dangers of the "insatiable appetite" called greed. It's a warning that can only be genuine if lived and survived. There's got to be more to life than chasing success, the song concludes. As the saying goes, those who worship money venerate a deity who will never be satisfied.
Over a bossa nova beat, T.R.U.T.H. reflects on "Long Time" about his early days rapping to cassette tapes purchased at the local record store. This leads to a reflection on the early days of Christian hip hop and its struggle for acceptance in the church. Now that the subgenre is mainstream, it has a whole new set of problems. None of it matters, T.R.U.T.H. concludes, if it's not about God.
"Brand New," featuring Samoht (aka Thomas Parker), is the EP's single. To a laid-back groove, the track expresses the wellspring of happiness that accompanies the calm after the spiritual storm. It's a reassuring message but the least deep of the EP's many pointed posts.
For me, "The Epilogue (For Me)" with Phil J. is the spotlight track. A moody underwater piano ostinato leads to T.R.U.T.H's no-nonsense delivery. Here he explores the psychological impact of commercial artistry and popularity. "The applause is paper thin," he rhymes, so stay humble and be who you are supposed to be. After all, the ultimate reward is Heaven, "where the streets are made of gold."
"Music is what I do, it's not who I am," T.R.U.T.H. concludes, having crafted a preaching moment out of a learning moment.
The backdrops on Vet are as lush and layered as Da' T.R.U.T.H.'s rhymes are straightforward. Though it feels like a transitional project, Vet is better than most transitional projects and certainly has a lot to say.
Four of Five Stars
Pick: "Epilogue (For Me)."