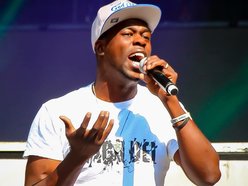 By Bob Marovich
Anyone who witnessed Tappahannock, Virginia, rapper J Rock during freestyle battles heard a young, hungry, and confident artist who didn't just want to emulate Jay-Z: he wanted to be better than Jay-Z.
But behind the scenes, the story looked different.
"I was hooked on drugs and did a lot of bad stuff," Christian hip hop artist Jerrell Golden told the Journal of Gospel Music.
"Me and my mom, we weren't seeing eye to eye, so she kicked me out," he said. "And honestly, I deserved it. I went through a spell of being homeless, going from friend to friend, crashing until their parents got hip to me: 'He's not just spending the night, he's trying to move in!'"
Thankfully, things have changed for the better. This June, Golden took home two honors, Holy Hip Hop Artist of the Year and Holy Hip Hop Song of the Year (for "B.Y.O.B."), at the Rhythm of Gospel Awards ceremony in Greenville, South Carolina.
As a youth growing up in Tappahannock, Golden accompanied his mother and grandmother to New Mt. Zion Baptist Church in Caret, Virginia, but sacred music was furthest from his mind. "When I had a choice in what I wanted to listen to," he said, "it was secular rap. Jay-Z, Li'l Wayne, 2Pac." Especially Jay-Z. "His poise on the microphone, on a song, he just sounded real smooth," Golden said, "and I liked the way he approached different songs, his concepts, his metaphors."
At first, Golden wrote poetry—his mother also wrote poetry—and soon moved into writing songs and verses. That led to freestyle battling in high school. "I went to the studio for the first time in tenth grade," he said. "Once I heard myself, I knew it's what I wanted to do. I had it in my mind that music was going to be my meal ticket."
Seeking to make his name in hip hop, Golden began putting out as many as two projects a year. He also sought out showcase opportunities and collaborated with other artists. He took J Rock as his stage name—as in "J rock the mike."
"Recording and making music was the easy part," he reflected. "God graced me to write songs at will, but the money to get to this place for this show or that place for that show—that became a little difficult. I didn't have the business part down. I was mainly selling CDs out of the trunk."
He continued: "I was addicted to drugs and also highly addicted to sex, so a lot of my music talked about sex and drugs—in a super creative way, which didn't make it any better, looking at it now."
To make ends meet, Golden took a job at Shoney's. That's where he met his wife. "It was my first time actually meeting a girl who lived for God," he said. "It was weird and attractive at the same time. God used her to get to me. She quickly put me in my place."
As his relationship with God grew, Golden got baptized and got married. "I was on fire for God," Golden said. "I had no other choice but to talk about it in my music. That's when I found out what my purpose is."
Since Golden's wife's family grew up Mormon, the couple attended the Mormon Church. He recorded his first Christian rap project, My Testimony, while in the Mormon Church, possibly making him the first African American Christian hip hop artist from The Church of Jesus Christ of Latter-Day Saints. As a result, he said, the verses in My Testimony contain Mormon ideology. He and his wife have since left the Mormon Church, a decision he described as "still kind of fresh and challenging."
"B.Y.O.B.," the Rhythm of Gospel Hip Hop Song of the Year, was written while Golden was still in the Mormon Church. "There's a lot of people who do their own cookouts and have B.Y.O.B. on the flyer," he explained. "I thought I would flip it – Bring Your Own Bible." He got the beat from UK producer Saru Beatz. "I heard that beat on his website and the words started pouring out. I was a Mormon at that time, and there are different little hints in there, if someone knows my testimony." The song is on Golden's 2017 self-titled album.
Another of Golden's testimonies can be heard on "Humble," also on the 2017 album. The title, he said, was inspired by Muhammad Ali's well-known declaration: "Rumble, young man, rumble."
"I flipped 'rumble' to 'humble' because [humility] is something I fight with every day. In the secular rap world, you want to be the best. Everybody is competition. In the Christian world, we're all supposed to be on the same team and God is supposed to get the glory. I have had to humble myself—and that eats at me, because I'm programmed to listen to artists and pick out mistakes and think how I would have done it differently."
Golden presented "Humble" and "B.Y.O.B." to appreciative audiences at Rhythm of Gospel Awards showcases. His appearances and awards garnered him a number of new friends and acquaintances. "I still keep in contact with a lot of the people there," he said.
Golden plans on attending the Gospel Image Awards in Charlotte, North Carolina, and will be throwing a free concert for his self-titled album August 11.
The Rhythm of Gospel Awards ceremony provided Jerrell Golden more than confirmation of his decision to forsake secular music for Christian hip hop: it also gave him a sense of community. "It was awesome to feel the spirit of God in certain rooms," he reflected. "The spirit was so tangible, it was amazing. It felt like church. It felt like kingdom business was at hand."
For more information, visit www.jerrellgolden.com.