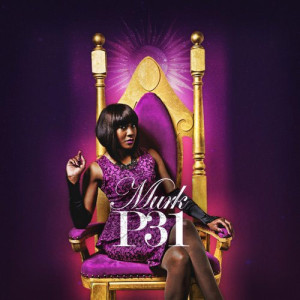 Murk
P31
Dedicated Music Group (release date: March 31, 2015)
www.murkp31.com
By Bob Marovich
Christian hip hop artist Murk is a P31 girl.
On her sophomore EP, P31, Murk employs rhymes and beats to encourage other women to join her in the movement.
"P31" is a reference to Psalms 31, which sets forth the importance of salvation and calls on the Lord to "keep me free from the trap that is set for me." Among those traps, we learn from selections such as "So Beautiful" and "All I Ever Wanted," are low self-esteem, self-doubt, abusive relationships, and poor choices. On "All I Ever Wanted," Murk concludes that the only man she can trust is God.
"True Story" is the EP's highlight. Through a series of vignettes, Murk outlines the types of modern predicaments women find themselves in that prevent them from realizing their true purpose.
As Murk makes clear on "Royalty" and the title track, women have the power to change their destiny and take their rightful place as "princesses" by embracing the King of Kings; they are all daughters of the King and thus are princesses from birth.  "We are not Barbies," she rhymes, not dolls to be played with, but human beings to be respected.
God fixes flaws and hearts, Murk points out, and by embracing the spiritual, women can walk into their reward. Hence, the EP is a call to action to join Murk's P31 movement. She says the movement will employ "positive hip hop music, literature, apparel, accessories, curriculum, theater, and film to captivate and connect women all over the world. Our group of women will proudly represent and model the precious character of the Proverbs 31 woman. We will build an army of P31s who will courageously defy societal standards and boldly live out their own."
Murk's P31 is a succinct lyric exposition of social woes and a recommended prescription for them.
Three of Five Stars
Pick: "True Story."