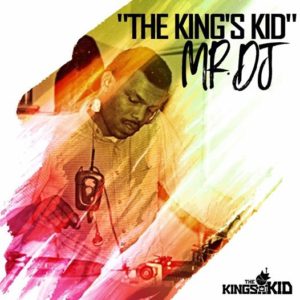 Nucci Reyo The King's Kid
Mr. D.J.
www.gstatedigital.com
By Bob Marovich
In 2000, life looked great for Nucci Reyo.
The youth from New Jersey who had amassed a groundswell of attention for his charismatic rapping was signing to MCA Records. Life looked even better when he released American 21 and began working with major label celebrities such as Puff Daddy and R. Kelly.
Then after appearing in a series of gospel-themed musicals, Nucci Reyo got saved, became Nucci Reyo The King's Kid, and turned his flair for hip hop into the White Flag Movement, where his goal is to bring his generation to Christ.
The King's Kid's latest music installment, Mr. D.J., is all about this mission. He spits his incisive rhymes with as much regret for time lost and relief in being delivered as with the urgency of a clock ticking out. "You Need People Like Me," he declares on "The Bad Guy," "to bring you to new levels in your mind."
Living a player's life and navigating its minefield of dangers, The King's Kid has seen it all and has miraculously survived. But as he spits on "Homies In Heaven" and "Sugar Hill Freestyle," others were not so lucky. "We get our lives cut short before we even grow," he says on the protest chant-driven "Let My People Go," but "God changed kingpins into apostles," and he counts himself among the number. On "All I Want Is You," he recalls lusting after fancy cars, money, and then just wanting to live; now all he wants is God.
The mixtape's most compelling moments are when Nucci Reyo speaks out against the external and internal forces breaking down the black community. He does this on the aforementioned "Let My People Go" but most notably on "Fight the Power Freestyle," a Public Enemy evoking track with an in-your-face funky beat and hyper-dramatic samples. Somebody says racism's dead, but he never got the memo, Nucci notes. Kids are getting killed, "and we flossin'."
Nucci's fealty to retro music shows up time and again on Mr. D.J. with snippets of thunderously bleating brass, jarringly funky riffs, and pioneering hip hop scratching.
Mr. D.J. is a clarion call for the lost to wave the white flag and come to God before it's too late. But it's not just about surrendering one's life to God, it's also about doing God's will by taking care of your neighbor. In the words of Nucci Reyo's call to action: "We clearin' out the air 'til the pollution is gone….you got a voice, I say use it…if you don't got the heart, then put mute on this song."
Four of Five Stars
Picks: "Let My People Go," "Fight the Power Freestyle."