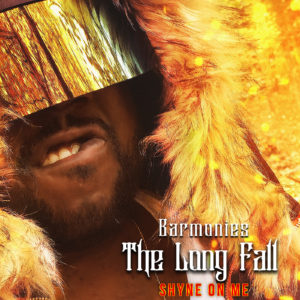 Shyne On Me
Barmonies: The Long Fall
(release date: December 1, 2017)
https://shyneonme.bandcamp.com/album/barmonies-the-long-fall

By Bob Marovich
Barmonies: The Long Fall by Shyne On Me is one of those albums best listened to in its entirety than as individual tracks.
On his latest project, Washington, DC-based Christian "city soul" singer and rapper Shyne On Me shares with the listener his personal journey from darkness to light. He does not leave out the temptations, discouragements, and the harsh realities of life along the way, but he reminds us that we will make it through the grace of God.
The album's opener, "Running to You," begins as a rudimentary cassette tape-recorded solo performance of Shyne On Me working on the song "Road to Redemption" (which we will hear in its entirety later in the album).  It then transitions into a sonic mélange of music, samples, and spoken word. It's the only song on the album that feels unresolved; the other nine tracks roll together into a steady hip hop groove and stay there.
There's a double meaning to "The Longest Fall." It likens the soul's journey toward redemption to the harsh transitions between summer and autumn. It also uses the word "fall" to mean those moments when we fail to live up to our God-given potential. We have all fallen: we have dirty secrets or things we hide from the light ("Skeletons"). At the same time, we are not to be defined by our starting point but by where we end up ("Choices" featuring a lovely vocal assist by Kayla Starks). Notwithstanding our life's autumn season, Shyne On Me declares in "Road to Redemption," we must continue to hold on. The sun will shine again. God's not through with us.
Several times throughout the journey, a disembodied male voice (Pastor? Father? Conscience? Coach? Teacher? God?) introduces a song by explaining its message while speaking directly to Shyne On Me. The messages are frequently delivered with tough love. They are nothing Shyne On Me hasn't already figured out, but has perhaps feared admitting to himself.
Shyne On Me gets an A for sonic innovation on this CD, and gospel fans looking for easy melodies and simple messages will not find it here. Barmonies: The Long Fall is a complex project about the complex process of redemption.
Three of Five Stars
Picks: "Road to Redemption," "Choices"