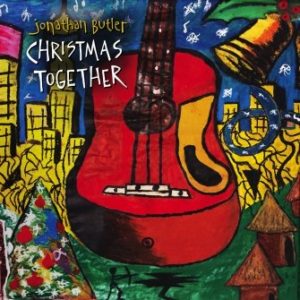 Jonathan Butler
Christmas Together
Artistry Music / Mack Avenue Music Group
(release date: October 4, 2019)
www.mackavenue.com
By Bob Marovich
Christmas Together is the second holiday-themed album for singer, producer, and multi-instrumentalist Jonathan Butler, one that he recorded and mixed in his home studio in Southern California.
Whenever the album isn't offering up dreamy instrumental arrangements of classic Christmas carols by some of smooth jazz's best-known musicians, it is evoking the soulfulness of Stevie Wonder. You hear Wonder's frictionless resonance in Butler's lead vocals on "Winter Wonderland" (no pun intended) and "Oh Come, Oh Come Emmanuel."
"Mary Did You Know," arguably one of the most popular Christmas songs written in the last generation, gets a tender but ultimately passionate treatment from lead vocalist Shelea Frazier, who cites Wonder as an influence (she also sings gospel and will portray Dorinda Clark Cole in the forthcoming Lifetime biopic on Detroit's famed Clark Sisters).
Guitarist Butler and keyboardist Keiko Matsui give "God Rest Ye Merry Gentlemen" a gentle reading with fidelity to the original, while "Joy to the World" is a jazz conversation between Butler on guitar and Dave Koz on soprano sax (Koz and his sax return later to lay a similar groove on "Away in a Manger").
The bouncy "Deck the Halls" reprises the musical give-and-take of "Joy to the World," though this time Gerald Albright is the saxophonist answering Butler's melodic runs. "We Three Kings" is a duet between Butler's electric guitar and Rick Braun's muted trumpet and valve trombone. For "Jingle Bells" Butler delivers jazz- and gospel-infused vocal runs as Kirk Whalum handles the flute and sax work.
"Love Is" is an original piece, and Shelea and Butler's duet on the song places another album track firmly in the Stevie Wonder groove. Outside of "Love Is," the album is comprised of familiar carols that are given just the right amount of jazz improvisation without obscuring the melodies. One might argue that the best application of smooth jazz, as cozy as a yuletide blaze on a wintry night, is in its interpretation of Christmas classics.
Four of Five Stars
Pick: "Love Is"