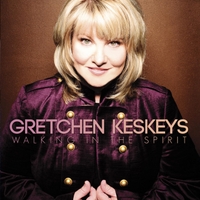 Gretchen Keskeys
Walking in the Spirit
Creative Soul Records (released June 27, 2016)
www.gretchenkeskeys.com
By Bob Marovich
For singer-songwriter Gretchen Keskeys, her debut album Walking in the Spirit is not only a vehicle for sharing her religious commitment, it is also a vehicle for personal catharsis.
As a teen, Keskeys, the daughter of a famous psychiatrist, was suffering from anxiety, fear, and depression. A rededication to Christ was the way she relieved her insecurities. Seeking to share her good fortune with others, Keskeys began serving as a worship leader in Northern California churches. Her reputation for singing and songwriting spread outward from California and ultimately resulted in the production of this album.
Keskeys wrote all ten radio-sized songs on Walking in the Spirit. She sings them with an earnestness that can only come from having lived the lyrics. At times, it seems as if Keskeys is singing the songs alone on a darkened stage, stool and water glass the only props, with a small spotlight for illumination. At the same time, her voice doesn't contain the angst one would expect from such an outpouring of emotion; rather, she delivers the lyrics in a matter-of-fact, been-there-done-that-moving-on approach.
Not surprisingly, the album's overarching motto is In God I Trust as the solution to overturning life's problems, large and small. Good examples of this expression can be found on "It's In Your Hands," "God's Love Will Never Change," and the title track.
The album's melodies are simple, the lyrics uncomplicated, and the arrangements a combination of pop song construction with elements of modern country, though the melody of the chorus of "The Battle" sounds for all the world like the main motive from Coolio's "Gangsta's Paradise" (an interesting subconscious move that would take more space than this review to discuss in all of its nuances).
Everything comes together best on "God Loves You," which is as simple and straightforward as its title. God loves you even if you are not a Super Christian, Keskeys instructs, and what God really wants is for you to do is to listen more.
Three of Five Stars
Pick: "God Loves You."