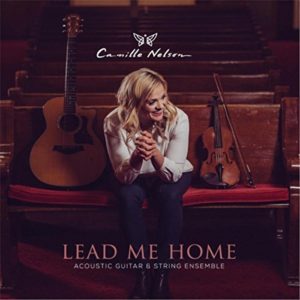 Camille Nelson
Lead Me Home
Stone Angel Music (release date: August 18, 2017)
www.camillenelson.com
By Bob Marovich
You can almost smell the spice-scented candles and warmly fragrant aromatherapy oils while listening to Camille Nelson's second studio album, Lead Me Home. This CD of instrumentals of classic and original hymns evokes the gentle, acoustic music you hear wafting from the speakers in a floral shop or greeting card store.
Nelson, a Utah-based guitarist and violinist, gathered together a string ensemble to assist her on this collection. Featured instrumentalists are cellist (and Camille's brother) Steven Sharp Nelson of The Piano Guys ("Come, Come, Ye Saints") and Ryan Shupe of Ryan Shupe and the Rubberband ("Come Thou Fount of Every Blessing").
The arrangements are thoughtful and the musicianship understated but skillfully delivered, all of it aimed to encourage restful reflection. Instruments crescendo and decrescendo like the hills and valleys of the pastoral environment these songs evoke. Nelson's violin work augments the selections' inherent dignity while enabling them, such as on "Count Your Many Blessings," to keen ever so delicately.
Naturals for the album are "Amazing Grace," "Nearer My God To Thee," and "Come Thou Fount of Every Blessing," the latter an eighteenth-century version of praise and worship music given a slight country twang here. The Irish qualities of "Be Thou My Vision" (the tune comes from a traditional Irish melody called "Slane") are accentuated by the lilting angelic voice of ex-Celtic Woman member Alex Sharpe, who sings the song in the Irish language as uillean pipes waft in like smoke from a distant peat fire.
Lead Me Home is sacred music for a quiet, rainy fall afternoon.
Four of Five Stars
Picks: "Be Thou My Vision"