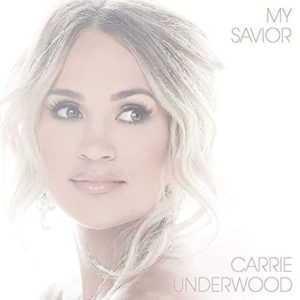 Carrie Underwood
My Savior
Capitol Nashville (release date: March 26, 2021)
www.umgnashville.com
By Henry Carrigan for JGM
My Savior is an album Carrie Underwood was born to make. Listening to her sing these songs carries us back to Sunday mornings in country churches where the vibrant beauty of these gospel hymns shines brightly.
Underwood herself says, "This is an album I have always wanted to record. When I set out to choose these songs, I wanted to include the beautiful, familiar hymns I grew up singing in church. There are several songs I have performed in the past, like 'Softly And Tenderly,' 'How Great Thou Art' and 'Amazing Grace' that mean so much to me and I knew immediately we needed to record for the album. This music shaped who I am as a person and is the foundation of my career as a recording artist. I feel so blessed to get to share these songs with generations of people who love them as I do, as well as others who might be experiencing them for the first time."
Underwood's pure, crystalline vocals issue from a soulful reverence, and her love of God and thankfulness for God's love and grace resonate palpably in her voice. We might never hear "How Great Thou Art" the same way again after hearing Underwood's soaring vocals spiraling higher and higher in an effervescent act of praise and worship; the pulsing electric guitar on the bridge drives an already powerfully moving song to a resounding climax exalting God. The sparse treatment of "O How I Love Jesus," with Underwood's vocals floating over Bryan Sutton's guitar and mandolin evokes the singer's fervent love of her Savior. One can imagine the striding cadence of Underwood's "Old Rugged Cross"—propelled by Derek Wells' piercing lead guitar and Russ Pahl's tender pedal steel notes—being played by praise and worship bands across the country, while her poignant version of "Softly and Tenderly" needs to be played at every altar call.
In its raw emotional power and tender beauty, Underwood's version of "Softly and Tenderly" recalls Cynthia Clawson's unforgettable version in the movie The Trip to Bountiful. The album opens with an harmonica instrumental of "Jesus Loves Me" by Southern gospel great Buddy Greene. It fades into the circling acoustic guitar picking of Charlie Worsham on the sparely delivered "Nothing but the Blood of Jesus" and closes with a Southern gospel harmony on the chorus. CeCe Winans joins Underwood for a rousing and transcendent version of "Great is Thy Faithfulness," which is the centerpiece of the album.
My Savior carries us back to the days of Benson Records and Word, and Underwood's ability to touch our hearts with her unblemished vocal power echoes Clawson, Sandi Patty, and Point of Grace. There are rays of redemption in every note of each song on My Savior.