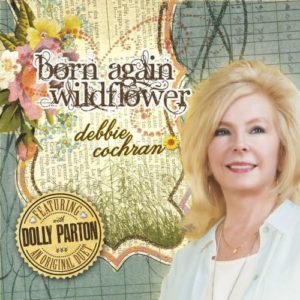 Debbie Cochran
Born Again Wildflower
Independent Release (release date: June 16, 2017)
www.debbiecochran.com
By Bob Marovich
Debbie Cochran, the Arkansas singer whose "Faith Can" was a JGM Pick of the Week in September 2016, scores big by landing Dolly Parton as a duet partner on the title track of her new album, Born Again Wildflower.
Cochran, a self-described "classic country" singer, has a voice that is wizened, expressive, and passionate. Her rich, low warble evokes another classic country singer, Kitty Wells, and her aggressive vocal projection reminds me of Opry stars. Her street-level lyrics are like country poetry, not unlike Dolly Parton's own songs. They align well with the overall feel of the album, which includes three basic components of country music, Christian-themed or otherwise: acoustic guitar, mandolin, and crying pedal steel.
On the title track, Cochran and Parton describe a troubled life of walking through "rings of fire and burning bridges" and finding "April showers" from God, who "rocks my world when I rock my boat." The loving father/errant daughter relationship appears also on "Bouquet of Roses:" the bouquet is a gift God gives Cochran in exchange for her "bouquet of thorns." Flora figure prominently as similes and metaphors throughout the album.
To a rockabilly backdrop, the humorous "Lord, Did I Miss the Rapture" is a tongue-in-cheek rant about the negativity of society and the frustration of daily life. Cochran delivers the title line in such a way that it sounds at once cheerfully acerbic, a country c'est la vie, but she's also dead serious. "Where's my happy ever after?" she sings, with more than just a shoulder shrug.  She reminds us that the Rapture is, in fact, a "happy ever after." This is the kind of song you can expect to hear on Nashville's WSM.
Producer Kent Wells, who has also produced Dolly Parton in the past, contributes his talent on guitar, mandolin, and background vocals. An evocation of a Christian's daily walk but delivered with sweet honesty, Born Again Wildflower will appeal to country music lovers and fans of southern gospel alike.
Four of Five Stars
Picks: "Born Again Wildflower," "Lord, Did I Miss the Rapture"