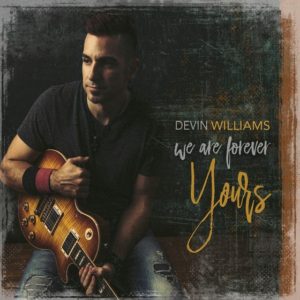 Devin Williams
We Are Forever Yours (EP)
Independent: (release date: August 4, 2017)
www.devinw.com
By Bob Marovich
The power of love, both given and received, is at the center of We Are Forever Yours, the latest release by worship leader and six-time Billboard Top 30-charting Christian artist Devin Williams.
Nowhere is this negotiation more explicit than on the current single, "Hear Our Hearts Sing." Interceding on behalf of an inferred congregation on this vibrant song of corporate worship, Williams offers God the congregation's (and his) collective hearts. But this is not a one-way proposition; in return, God will bestow peace, joy, and love.
God's covering love, Williams sings on "I Will Not Fear" and "Because of You," protects him from harm. On "You Give Me Strength," he adds that the love of God keeps him strong when he wants to give up. When it comes to expressing gratitude for direct intervention from God, Williams makes his case most plain on these three songs. "I Worship You Now," on the other hand, expresses God's love for his people through Jesus's death on the cross.
The songs are buoyed by bright, welcoming melodies flavored by energetic country-rock-meets-Coldplay arrangements and instrumentation. Williams's voice is part worship leader, part country-rocker, meaning eager, honest, and genuine. There's nothing not to like about this pleasant presentation of worship songs from a Nashville guy who credits the late Chris Cornell of Soundgarden as one of his influences.
Four of Five Stars
Pick: "I Will Not Fear."