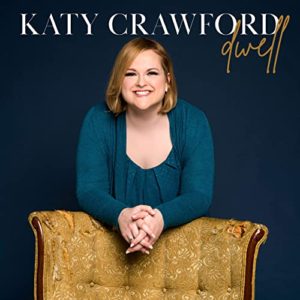 Katy Crawford
Dwell (EP)
Devotion Music (release date: June 11, 2020)
By Robert M. Marovich
Dallas-based singer-songwriter Katy Crawford was inspired to read from Psalms every day and set some of the verses to music. Her EP Dwell is the first, but hopefully not the last, of her musical explorations of the ancient lyrical poems.
Crawford gives the EP's six psalms a dash of folk, country, and Celtic lilt. Their memorable melodies are supported by a delicate acoustic ambience, one that never overpowers Crawford's earnest vocals, which are reminiscent of Sandra McCracken and Lauren Daigle.
Although the rhythmic and engaging title track, based on Psalm 23, is the radio-friendly single, it's the worship song "You Are Holy" that stands out as the stronger track. Its liquid arrangement, lovely melody, tight harmony, and singsong refrain are restful and sweet.
"Save Me" sets Psalm 3's plea in the face of one's enemies to a reassuring rhythm section, like the cavalry galloping to the rescue. Psalm 9 is the source of the relaxed "Whole Heart," and Psalm 32 informs "Hiding Place." The EP concludes with the Psalm 8-inspired "Who Am I." It's set to a languorous and twangy alt-country arrangement complete with flourishes of warbling organ at the end.
Dwell was recorded at Sound Kitchen and at Red Street Records, and gets a crisp production from Nashville's Billy Smiley. With plenty of psalms awaiting arranging, Katy Crawford's concept is one I hope she continues to pursue.
Four of Five Stars
Picks: "You are Holy," "Dwell"