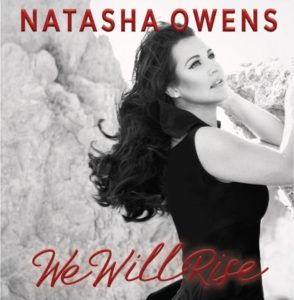 Natasha Owens
We Will Rise
Maharlow Records (release date: July 7, 2017)
http://natashaowensmusic.com
By Bob Marovich
Sometimes new beginnings flower from the most terrible tragedies.
That was the case for Natasha Owens. Seven years ago, her father was cleaning a gun when it misfired, killing him at age 58.
In the midst of her grieving, Owens was invited to serve as her church's worship minister. She wrote songs for her church to sing. Through music ministry, she found that the more she poured into the congregation, the more she got back.  A trip to the recording studio to memorialize her songs produced a CD that set her on a path to a solo career.
Owens' latest full-length project, We Will Rise, is the result of her having more songs and ideas to share. The album sails along on radio-sized worship songs that outline the many ways Jesus has impacted the singer's life and, by extension, the listener's. Owens' soprano runs from coquettish to bracing, but mostly bracing as she belts out earnest messages so even the back row of a megachurch can appreciate them.
The album opens with songs that are reflections on Jesus's faithfulness and constant care for his people. The current single, "I Am Loved," also explains how words can be used to harm or heal. Clearly preferring healing words, Owens relates how something as simple as speaking "I am loved" can unleash one's inner power.
On the slow, dramatic ballad "Safe," Jesus demonstrates superhero abilities in saving his people from harm. The anthemic title track calls for everyone to remain resilient, regardless of what we face. "Move Me," on the other hand, switches from passive expositions of grace bestowed to an active, urgent, direct call for Jesus to "carry me when I have nothing left."
The tracks are melodically and musically consistent and easily digestible. Two, "Wings" and "Legacy," stand out for their refreshing lyric motives. "Wings" is about finding the courage, through Jesus, to face life's battles. The line, "the same wind that knocked me down gave me wings," is the best lyric sentiment I've heard in a song all year—sacred or secular. "Legacy" encourages selfless giving, an important message in a time of selfies-gone-wild and hyperbolic narcissism.
For a woman who could barely get out of bed after the death of her father to having a new career in Christian music, We Will Rise is an apt title, a captivating testimony, and an important call to action.
Four of Five Stars
Picks: "Wings," "Legacy."
Thursday, August 31, 2017 — Like all Americans, Christian singer-songwriter Natasha Owens has been heartbroken over the ongoing flooding in her home state of Texas following Hurricane Harvey.
After much prayer and discussion with her team, she's decided to donate all proceeds from the retail sales of her new album, "We Will Rise," through the end of the year.
"I'm proud to be a Texan, and even more proud of the way that people are coming together to help others in the wake of the devastation of Hurricane Harvey," says Natasha, whose own church is on the ground in Houston offering assistance. "Psalm 46:1 says 'God is our refuge and strength, a very present help in trouble.' That's the truth we hold to right now. Jesus is faithful to revive. We will rise!"