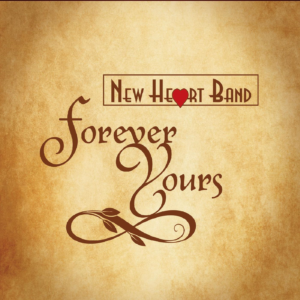 New Heart Band
Forever Yours (2019)
www.newheartband.com
By Bob Marovich
The New Heart Band's latest release, Forever Yours, is a collection of breezy, folksy love and worship songs to the Most High sung by husband and wife team Gregg Christenson and Elaine Carter Christenson.
Gregg, whose voice has a craggy fragility (think Keith Carradine of "I'm Easy" fame), handles most of the lead spots. Exceptions are when he and Elaine duet on the Latin-tinged "I Love Your Presence," and when Elaine's conventionally pretty soprano takes over on "Every Day."
Most of the songs, such as "Only You" and the melodic "Worthy," are unambiguously worship songs to the Lord, while others, such as "A Sunny Day," leave the love interest implicit. The lyrics are as simple as love letters and sung with the same grinning delight.
Accompaniment ranges from delicate acoustic string band to light folk-rock, with punctuations of sax by Ted Dortch and chirps from the B-3 by Richard Henderson. Although the musicianship and arrangements are more contemporary than the New Heart Band's 2017 project, A Spirit Journey, the band still leans more heavily toward the country-rock sound of 1970s groups such as Poco and America than modern country or CCM.
Three of Five Stars
Pick: "Worthy"