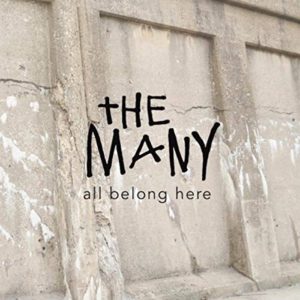 The Many
All Belong Here
Independent (release date: July 10, 2017)
www.themanyarehere.com
By Bob Marovich
The title track of The Many's All Belong Here could be the group's official anthem.
Everyone is welcome at the table of humanity, sings this Christian vocal harmony group from Chicago. Featuring the talents of Darren Calhoun, Hannah Rand, and Leslie Michelle, The Many walks the talk. It is as intentionally diverse and inclusive as the songs the group sings.
Their harmonies may be sublime and their musical arrangements mostly laid back and delicate, but the singers are woke when it comes to acknowledging reality. "Forgive Us" and "Forsaken" recognize our limitations, our frequent failings, and our nagging doubts about God, especially during the darkest hours. But when "Stand with Love" asks "can what is broken be whole again," the group answers with a body-swaying, arm-waving affirmative.
The power of love is a key theme on All Belong Here. In addition to "Stand with Love" and the title track, there's the folk-rock "Love Is Here." Equally suited for presentation in a megachurch as in a local coffee house, the singers stress that love is present even if there are no "blinding lights" to let us know for certain. "Love is stronger than hate," a statement that fuels many a twenty-first century protest, echoes throughout "Love Rises."
Musically, the Many shifts from acoustic piano-led ballads to soft rockers, though the group is at its best on the former, as selections like the gentle "Only Grace" illustrate. Irrespective of music style, the most fascinating song on the album is "Lovely, Needy People." It intones the Greek Kyrie Eleison (Lord, have mercy) in chilling response to a litany of the spiritually lost, shackled, and needy.
The composition and compositions of The Many demonstrate the difference Christian music can make when freed from the shackles of social prejudice and cultural division that exist in the church today.
Four of Five Stars
Picks: "All Belong Here," "Lovely, Needy People"