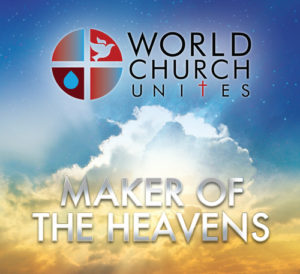 World Church Unites
Maker of the Heavens
Third World Vision (2017)
www.worldchurchunites.org
By Bob Marovich
Gospel music has a higher purpose, and in the case of Maker of the Heavens, the purpose is more than spiritual. It's about the very sustenance of life itself: water.
World Church Unites, the Lincolnton, North Carolina-based music ministry team for Third World Vision, released a CD of original music as a fundraiser to provide clean water technologies to parts of the world that suffer from a lack of clean water. Anyone who donates to the cause gets a copy of the CD in gratitude (while supplies last).
The seven original songs, all cut much from the same cloth, are earnest, melodic, megachurch-sized performances that focus for the most part on the importance of salvation. The opener, "It is Finished," riffs on a dual interpretation of the title to depict how Jesus's final words on the cross were not just about the completion of his earthly life, but the successful completion of his goal to save mankind. "To Be Saved" is another selection centered on Jesus's dying so we may live. This focus on spiritual salvation parallels the project's explicit intent to provide physical salvation to the poorest countries through supporting the World Church Unites Clean Water Mission.
The album's loveliest cut is "Spirit Breathe," a liquid ballad about spiritual renewal that features a warm, throaty lead by Amber-Lee Garcia. Garcia sings background harmonies on many of the CD's other tracks, but she deserves to be heard more often as a lead singer.
The World Church Unites band features thumping rock drums, electric guitar, and Parker Sipes' rock stadium vocals. The group uses the contemporary pop music technique of pinning chiming musical motifs to song melodies to give track their instrumental hook. Although not listed as a formal member of World Church Unites, Mike Faircloth's deft piano and synth work is featured prominently through the project.
Maker of the Heavens will appeal to CCM and Christian rock enthusiasts especially, but anyone who believes in clean water for everyone will discover that receiving the CD as a way of saying thank you makes it just as nice to receive as to give.  To participate, visit http://worldchurchunites.org.
Three of Five Stars
Pick: "Spirit Breathe"