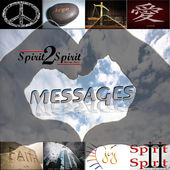 Spirit 2 Spirit
Messages
Shekinah Records (release date: April 24, 2015)
www.spirit2spiritmessagemusic.com
By Bob Marovich
Messages, Michael and Denny Jenkins's latest album as the duo Spirit 2 Spirit, is as much about the music as the message.
That's not surprising, considering Spirit 2 Spirit is best known for its musicianship.  The  Jenkins's are dubbed the "Earth Wind & Fire of Gospel" for how they blend smooth jazz, sweet soul, funk, R&B, and gospel with inspirational commentary.  Spirit 2 Spirit is EWF in a mellow mood, however, as its guitars offer introspective jazz riffs while chimes tinkle, a flute pipes delicate notes into the mix, and a drum machine offers up a 1980s vibe in spots.  Even the brothers' voices are smooth and mellow.
The title and opening track announces the theme–messages of enlightenment and encouragement. The positive mood is ideal as a soundtrack for these messages.  Indeed, the selections feel more like vignettes than songs; they appear to be individual parts of a musical and thematic whole.  As if to confirm the album's commitment to continuity, Messages includes two short (but ultimately extraneous) musical interludes.
"Healing 4 My Soul" is the album's musical high point and an archetypal example of Spirit 2 Spirit's hang loose music mélange.  It is also the lyric high point: a positive call for peace in the world and an end to bigotry and racism.  "What Did You Do?" drapes unconditional gratitude to God in sweet soul harmonies, while "Let Go Let God" echoes the opening theme, if not the arrangement. "Come 2 Me" features a brilliant female vocalist named Terri who, according to the Jenkins brothers, offered up her vocals as part of an audition.  While she chose not to join the group, she allowed them to use her vocal track for "Come 2 Me."  Her tenure is our loss, as her gospel singing is quite affecting.
The Jenkins brothers come from sturdy gospel stock.  Their father, the late Thomas Jenkins, was a founding member and manager of the gospel quartet the Mighty Southern Echoes of Washington, DC (Versa). They even served as musicians for the quartet toward the end of its 48-year tenure.  They formed Spirit 2 Spirit as a way to extend their father's legacy. The duo is not alone, however, as a quartet of musicians (Curtis Day, Tony Carr, Michael Simon, and Anthony "Muke" Thompson) support them with added music and vocals.
Messages is a kind of sacred yoga for the soul.
Three of Five Stars
Picks: "Healing 4 My Soul," "Come 2 Me."