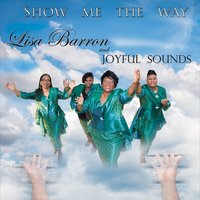 Lisa Barron & Joyful Sounds
Show Me the Way
Faith Productions (2015)
www.cdbaby.com/Artist/LisaBarronJoyfulSounds
By Bob Marovich
Although at first blush it may seem as if Lisa Barron & Joyful Sounds is a female quartet, the EP Show Me the Way finds the group working mainly in the piano/organ-led gospel group tradition, more specifically the leader-group style that has been popular for the past 25 years or so.
Show Me the Way is the debut release from Barron & Joyful Sounds, a Texas group organized in 2013. The Longview, Texas-born Barron has been singing in church since around age nine, especially in Mt. Zion Spiritual Church #2 under the leadership of Pastor Cedell Mitchell.
The EP's six songs, each written by Barron, tend to be private conversations with God, prayers set to music. An exception is the opener, "Don't Ever Give Up," which is a directive to the audience to keep the faith and stay strong in the face of job loss and other stress points in life. "In Your Presence Lord" is a fine church solo by Barron with support from piano, but at 90 seconds or so in length, it ends too soon to make way for the mid-tempo "Speak to Me, Lord."
Where the group does evidence a quartet feel is on the title track, which turns out to be the EP's best selection. Everything the ensemble has accomplished on the project to that point comes together, complete with a big finish. "Thank You" also contains elements of quartet style but lacks the flourish of "Show."
The album has a fair amount of synthesizer in its accompaniment. Readers of JGM know I am not a fan of synthesizer in gospel music. However well played, the instrument can add an inauthentic grandiosity where less is more. It can come off like a carnival barker at a solemn worship service.  A piano, even an electric piano played skillfully, works better. The songs, too, are hit and miss; "In Your Presence Lord," for example, is almost an afterthought when it deserves a full treatment. Vocally, however, Lisa Barron & Joyful Sounds have hearty voices and put their all into what they are singing.
Three of Five Stars
Pick: "Show Me the Way."