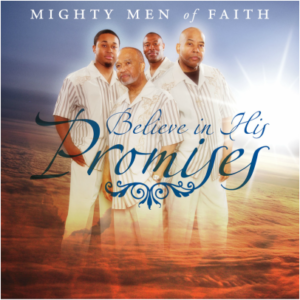 Mighty Men of Faith
Believe in His Promises
N2L Records (2016)
www.mightymenoffaith.com
By Bob Marovich
Since forming at a 2009 Men's Day Celebration in Palo Alto, California, Wendell Basey and the Mighty Men of Faith have recorded a handful of albums and have garnered several honors, including two at last year's Rhythm of Gospel Awards, one being for Quartet CD of the Year for 2014's Nothing But Grace.
The Mighty Men of Faith's new album, Believe in His Promises, finds the indie group working within its trademark neo-quartet sound—bright, chirpy arrangements with plinky piano and frequent lead vocal exchanges between members.  The harmonies are consistently nice and easy.
If the selections, especially the title track, have a 21st century Kirk Franklin vibe tempered with classic soul, the lyrics are straight outta quartetville.  The album's overarching theme is of trusting in God at all times, but especially during times of trouble.  "Just Hold On" and "Prayed About It" most explicitly admonish the listener to follow this credo, while "You Tried Everything" riffs on the "you've tried the rest, now try the best" trope, with God as the chief lawyer and doctor.  On "He's Worthy," the group reminds that "He can't help you if you keep getting in the way."  A personal testimony in "Watching Over You" declares God's power over cancer.
Besides the title track, with its catchy "name it, claim it, believe it, walk it" lyric phrase, the album peaks with "The Power of We."  This anthem of hope seeks a return to the spirit of community–that even when the community members disagree, the whole is better than the sum of its parts.  It's the most memorable cut on the album and offers a message we need to heed.
Three of Five Stars
Picks: "Believe in His Promises," "The Power of We."