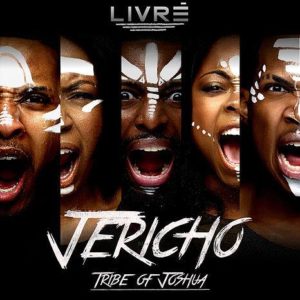 Livre'
Jericho: The Tribe of Joshua
Glory 2 Glory Records / MBK Records / Sony RED Association Labels
(release date: May 20, 2016)
By Bob Marovich
If part of today's political rhetoric is about building walls, Livre' is about knocking them down. Eliminating life's barriers is the premise of the group's sonically delightful Jericho: The Tribe of Joshua.
At times, the five-member power vocal group from the Bronx (their name is pronounced LIVE-ray and means "free" in Latin) delivers its message in bright, optimistic tones, and at other times, it speaks from a relatable vulnerability. Regardless, the group argues that whether our walls are constructed of financial challenges, disease, depression, bullying, or other maladies, we have the power, through God, to send the walls tumbling down, just like Joshua.
To hammer home this point, Livre' offers the interesting "Jericho," which opens with a sample of Mahalia Jackson singing the spiritual, "Joshua Fit the Battle of Jericho," and then playfully peppers 'Halie's voice throughout the selection. The album includes one version of "Jericho" featuring Christian rapper A$AP Ferg and one without. "Everything's Coming Up Jesus," the Billboard charting hit single, also distills this message of overcoming, but in a Kirk Franklin-style kaleidoscope of music colors.
Livre' is not naive: we will conquer our walls but are just as likely to fall again. "Watch Me," featuring Mali Music, reminds us that we have it in us to rise again. The ballad "Me To You," with Jason Nelson, declares that God loves us even though we are imperfect and sometimes fail to treat Him with respect.  On "Missing Pieces," the group even likens God's love to Prozac, because it clears the fog of depression.
The songs and arrangements are smart, the production crisp, and the singing intense and focused. The praise ballad "Amazing" concludes with a Smallwood-esque flourish, and the singing on the traditional-leaning but jazzy "J.E.S.U.S." is breathtaking. Sometimes the harmonies are channeled through electronica for an ambient feel, and other times they are not. Nevertheless, each of the five vocalists bring something special to the mix.
JGM first learned of Livre' back in 2012 and is not surprised to see them breaking down walls into new territory.
Five of Five Stars
Picks: "Everything's Coming Up Jesus," "Jericho."