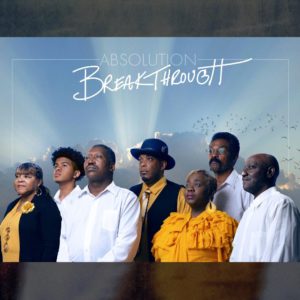 Absolution
Breakthrough
Independent (release date: March 14, 2019)
By Bob Marovich
On the album Breakthrough, Absolution adopts an '80s R&B vocal group style mixed with elements of smooth jazz to deliver religious and inspirational songs inspired by personal experience.
The mixed-voice group Absolution was organized in North Augusta, South Carolina, in 2014 by singer-songwriter Wayne Mims and lead guitarist John Henry Walker. The members' ages run from teenager to senior, so it seems as if they found a happy medium in laying down '80s-vintage smooth R&B as their musical foundation.
While the members of Absolution don't go into great detail about the circumstances behind their testimonies, you do catch snippets about illnesses, hard choices, and life changes. Notwithstanding the privacy, lyrics to cuts such as "Thank God for Another Day" and "You Did So Much" demonstrate immense gratitude for divine intercession. "Ten Thousand Tongues" gushes with appreciation for God's breakthrough intercession ("If I had 10,000 tongues, I could not thank Him enough"). "Can't Take My Faith" adds a declaration of steadfastness in the midst of trials: "when Satan tried to pull me down, he didn't claim me."
Songs like "Calling Jesus" and "Favor" are the most faithful to the '80s R&B vocal group style, and on "Oh How Great," the synth punctuates spaces in the lyrics with Gap Band-style sonic lightning bolts. "J.E.S.U.S" and "Calling Jesus" share sonic kinship and reflect on turning to Jesus in prayer.
"Gospel Shuffle," the album's most interesting track, is an up-tempo traditional-style hand-clapper with a clattering tambourine. While it sounds like a song about a new dance style, it's actually about moving (aka "shuffling") from town to town spreading the good news, just like Jesus did.
Spoken word "skits" that appear from time to time to illuminate song themes sound mixed at a lower volume than the musical portions. A 3db boost would have made them more consistent with the rest of the project.
While the quality of the lead singing is hit and miss, Absolution is especially adept at harmonizing.
Three of Five Stars
Pick: "Gospel Shuffle"