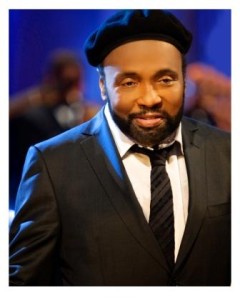 By Bob Marovich for The Black Gospel Blog.
Multi award-winning Andrae' Crouch is moving into his sixth decade in gospel music, but he's not slowing down.
The singer-songwriter who, along with the Hawkins Family and the Rance Allen Group, helped birth the contemporary gospel movement in the 1960s, is promoting a new single, a new album, and a choir competition.
The Journey, available May 15, will be Crouch's first CD since 2006's Mighty Wind. The album's first single, "The Promise," will be available as a digital download on Tuesday, February 15 exclusively at Walmart.com, iTunes, and Amazon.com, and all other online retail outlets February 22.
"God has given us all kinds of rhythms on this album," Crouch told TBGB last week, "but there's a beautiful ballad on it ['The Promise']. "There's so much negative stuff going on. The economy is weird. Relationships are weird. Finances are weird. Where we live is weird. People's jobs are weird. But God wants to remind you that He will never leave you or forsake you, no matter what your problem is or what you're going through. He's saying, 'I'm right here: just lean on me.'
"'The Promise' is about that, about referring back to the Word. There's so much power and strength in Scripture."
Crouch, who has written approximately 1,700 songs in his lifetime, including "The Promise," gets his inspiration "from the Lord. I just sit down at the piano and start playing. And I'll hear something and say, 'Oh, that sounds pretty!' And I'll tape it. Believe it or not, I still work with a Radio Shack cassette recorder. I can fill up the tape, just flip it over, and there it is! I can take the recorder into the shower – of course I don't take it in the shower – but I can put it on the sink while I'm getting ready. I have boxes and boxes, six feet tall, with cassettes with music on both sides…filled with songs I've never recorded."
Crouch added, "When God uses you, what a privilege that is! For Him to say, 'I'm going to send Andrae' a song today,' that's a privilege. For Him to be looking over this whole world, and to have a message, and there I am, eating a Popsicle, and I'll begin to hum a melody.  That's what happens all the time."
One of Crouch's most popular songs was also one of his first. "The Blood Will Never Lose Its Power" was recorded by Crouch's group, the COGICs, by Richard Simpson in the early 1960s. Simpson was a jazz and gospel producer. "They called [Simpson] 'Bishop' because he liked gospel," said Crouch, recalling that first disc. "Billy Preston is on the organ. We were like thirteen, fourteen, trying to look old!"
In addition to writing and singing, Crouch is Senior Pastor of New Christ Memorial COGIC in San Fernando, California, the church his parents founded. "Whenever I'm gone, [twin sister] Sandra takes over. And she can preach, boy!"
Crouch is preparing to launch "The Riverphlo Entertainment Presents Andraé Crouch 'The Promise' Choir Competition." The competition begins February 15 and ends June 30, 2011.  It is open to church and community choirs in the U.S., Puerto Rico and Canada.  Participants must be at least 18 years or older.
Crouch decided to organize the competition because "I have seen so many great musicians, but I didn't have anything set up to make a record on them."
Grand prizes for the competition include:
– a two-song digital deal with Riverphlo Entertainment produced by Andrae' Crouch and Mano Hanes;
– Hanes and Crouch conducting a music workshop on songwriting, production, and music ministry at the winning choir's church and/or community;
– The option of Crouch and Hanes appearing and/or participating at the winning choir's sponsored concert during the time period of the workshop;
– An opportunity to appear in Crouch's upcoming documentary film;
– A chance to appear with Crouch in various local and national media opportunities; and
– Music and sound equipment from a leading music supplier.
Crouch said, "We hope the choirs will respond to the contest and that we can find some good talent that can deliver the music God has given them…whoever the Lord sends that meets certain requirements and we feel like they have something to share with the world. If what we present is encouraging to them, they'll carry on. The main goal is to spread the gospel."
The single and album are on Riverphlo Entertainment and distributed by Universal Christian Music Group. Riverphlo CEO Mano Hanes, who produced Mighty Wind, returned to produce The Journey.
A documentary on Crouch's musical journey, a television show, book and other opportunities are forthcoming in 2011 and 2012. For more information, visit http://www.riverphlo.com/.