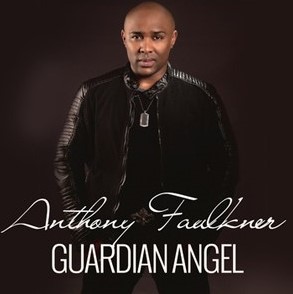 Anthony Faulkner
Guardian Angel
7TH Chapter Music (2016)
www.afaulkner.com
By Bob Marovich
It's no surprise that Angela Winbush of 1980s R&B vocal duo Rene' and Angela makes a vocal appearance on "Closer," a song on Anthony Faulkner's new album, Guardian Angel.
Faulkner considers her his personal guardian angel.
He told the Journal of Gospel Music how he met the popular singer at his church or, rather, how she met him: "[Angela] didn't know me from any of the other kids, but she walked up to me at church one day and asked me, 'Do you like music?' She challenged me to go to school and play an instrument. She birthed something new into my life."
It was only later that Faulkner learned that the "Sister Angela" from church who encouraged his formal music education was an internationally known recording artist. Hence, the EDM-driven title track is as much a tribute to Winbush as it is a call for each of us to be blessings to others.
Three of Guardian Angel's sweet spots lie just south of the album's middle, and two have already been released as singles. On "Let It All Go," Faulkner and Nikki Potts (Kurt Carr Singers, L.A. Mass Choir) weave complex vocal lines into a hypnotic tapestry of sound. "I Trust You" begins with delicacy and grows in musical strength. Not a single, or at least not yet, "Emmanuel" is gentle, compelling, and benefits from exquisite backing harmonies. Tying the three together thematically is the importance of maintaining faith that God, who provides everything, will not forsake us, especially in the midst of trials.
"We Need Change" reinforces this faith imperative, even when, as V3 raps, "the rich get more while others die and stay poor" (evocative of a Regina Spektor lyric!). The song is essentially a modern take on the "take your burdens to the Lord and leave them there" message.
"The Clouds Above" is intriguing, with its reggae beat and hook-laden verses.  The album's closer, "Jesus Will Fix It," is the album's highest point, an uptempo contemporary gospel choir performance, complete with cascading parts and full-throated harmonies.
Although Anthony Faulkner explores a wide variety of sounds on Guardian Angel—from EDM to island beats to reggae—the message remains the same: you and I are not alone.
Four of Five Stars
Picks: "Jesus Will Fix It," "I Trust You."