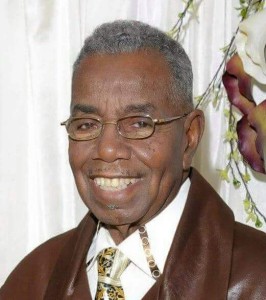 By Bob Marovich
President Yvonne Seabrooks of the Chicago Area Gospel Announcers Guild informed JGM that Bishop Jerry D. Goodloe, pastor and overseer of Lighthouse Baptist Church of Chicago, has passed away.
Born January 17, 1923, in Nashville, Tennessee, Bishop Goodloe moved at age four to Detroit, and then to Chicago in 1946. In Chicago, he attended Liberty Baptist Church under the leadership of Dr. D. Z. Jackson, and was part of First Church of Deliverance in the 1950s, where he sang in its famous radio choir.
Goodloe entered the ministry and with seven members, started Lighthouse Baptist Church on Mother's Day, 1962. Jerome Burks of the Lux Singers was his choir director. Ten years later, with a much larger congregation, the church moved to 2415 East 75th Street, and is now located at 7945 South Exchange on Chicago's South Side.
Lighthouse is best known in the gospel music world for debuting on record Calvin Bridges's "I Can Go to God in Prayer" (1981).  The late Queen of Gospel, Albertina Walker, was guest lead singer, backed by Lighthouse's Evangelical Choir; Dr. Cherli Montgomery was a member.  The song is one of the 100 most influential gospel recordings of all time.
JGM extends its heartfelt condolences to the family and friends of Bishop Goodloe, a dedicated soldier in the army of the Lord.
BISHOP GOODLOE'S SERVICES ARE AS FOLLOWS:​
Sunday, August 23rd at 4:30 pm
Bishop will Lie In State
Sunday, August 23rd at 5:30 PM
Holy Ghost Filled Musical Celebration
All Former Choir Members Of The Lighthouse Church Are Invited To Join The Reunion Choir. There Will Be A Special Choir Rehearsal On This Coming Thursday Night, August 21st At
7:30 PM At The Lighthouse Baptist Church.
Homegoing Celebration
Monday, August 24th
Visitation – 9:30 AM
Service – 11:00 AM
LIGHTHOUSE BAPTIST CHURCH
7945 SOUTH EXCHANGE AVENUE
CHICAGO, ILLINOIS 60617