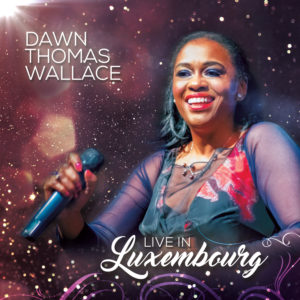 Dawn Thomas Wallace
Live in Luxembourg
Zoe Records (release date: 2020)
By Bob Marovich
UK Christian singer Dawn Thomas Wallace deserves major props for pulling on classics from the contemporary gospel canon for Live in Luxembourg.
Recorded before a polite but appreciative audience at Luxembourg's Oasis Church of God (Pastor Pietro Colaci), Wallace's release contains material from top-shelf songwriters such as Richard Smallwood, Andrae Crouch, Walter Hawkins, James Cleveland, Travis Greene, and William McDowell. It's a refreshing change from the current trend of writing and recording sound-alike vertical praise anthems. At the same time, the lyrical content of vertical praise, such as the joy that comes from praise and worship, reverberate throughout.
The album also demonstrates the love Europe has for the pioneers of contemporary gospel. For example, Wallace and her background vocalists deliver an extended version of the James Cleveland perennial "Jesus Will," which Cleveland and the Voices of Tabernacle first recorded in 1960 with soprano Hulah Gene Hurley on lead. Wallace and crew, however, borrow Anita Wilson's recent arrangement for their interpretation.
Rhythmic pieces include Nigerian worship leader Sinach's "I Know Who I Am." It would have been even better had some African folk instruments been included on this piece. African beats are also bestowed on William McDowell's "It Is So"—an insistent tempo Wallace describes as "getting churchy." To a '60s swim beat, "The Sound" is a celebration of victory through prayer. "No Reason to Fear" is a nice surprise, an energetic piece sung with great enthusiasm.
The musicians are solid, supportive, and never overpowering, and the production is crisp and balanced.
Some of Wallace's best singing comes on the opening cut, Richard Smallwood's "Holy Holy," and on a number of Andrae Crouch selections, including a medley of Crouch favorites that nearly results in a praise break.
The album's finest moment comes at the conclusion, during Wallace's reading of Walter Hawkins' heartwarming ballad "Jesus Chris is the Way." Her voice quavers slightly at points; otherwise, she delivers a fine performance.
"I don't know how you felt when you came here," Dawn Thomas Wallace declares to the audience, "but you're going to leave here feeling better." I suspect she was right.
Four of Five Stars
Picks: "Jesus Christ is the Way," "Holy Holy"