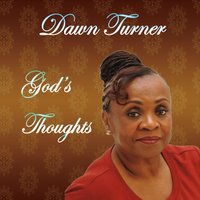 Dawn Turner
God's Thoughts (EP)
Story Book Music, Inc. (2016)
www.cdbaby.com/cd/dawnturner
By Bob Marovich
Buffalo, New York, native Dawn Turner is a fine church singer. She's not a shouter, squaller, or melismatic artisan but, as she demonstrates on "God's Name," one of the five cuts on her God's Thoughts EP, she can sure enough deliver blue notes while singing flatfooted.
Turner is also a songwriter, and all but one of the tracks on God's Thoughts are her own compositions. One, "Giving is a Ministry," is an ode to the importance of tithing and the blessings that come from grateful giving. It has a recitative quality because she overpacks the melody with lyrics. Dense lyrical content appears to be her songwriting style, but less is really more when it comes to gospel songs.
Same with instrumentation. These days, gospel artists need to surround themselves with musicians to remain relevant, but on the nineteenth-century hymn, "Give Me Jesus," Turner proves that simpler is better. Here she sings with great expression, with only producer Devory "Lefty" Pugh's lovely piano for accompaniment. The song and the accompaniment suit her best and thus, this track shines brightest. It would be great to hear Turner and Pugh do a whole album of gospels, spirituals, and hymns, with just voice and piano.
Three of Five Stars
Pick: "Give Me Jesus"