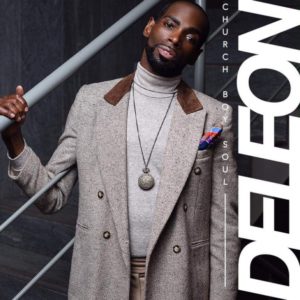 De'Leon
Church Boy Soul EP
We Here Now Music Group (release date: April 14, 2017)
www.deleoncarr.com
By Bob Marovich
A member of some of the top gospel choirs of their day and now a 2017 Rhythm of Gospel Award winner, De'Leon Carr offers a cornucopia of sounds, styles, and messages on his EP, Church Boy Soul.
The EP's high point is the brisk opening track, "He Will Take Care." De'Leon and his choir reach back to classic gospel for this one, which I first heard a church choir sing in 1984, likely taking its lead from the Thompson Community Singers' 1979 recording. Fusing his tutelage under contemporary choir directors such as Ricky Dillard and Hezekiah Walker with modern instrumentation and musicianship, De'Leon transitions "He Will Take Care" into a praise break that becomes its own separate selection, one almost as long as the track it precedes.
A hypnotic Middle Eastern sound complete with strings accompanies the P&W cut, "Draw Me Close." This prayer for closeness with the Lord builds gradually in volume and intensity, then drops into a quiet solo and ends with a long silence that I suspect is intentional and not a technical error.
The neo-funk "Saved" is a reflection on the benefits of salvation, while "I Believe (the Slade Mix)" uses hip hop elements, courtesy of B Slade, to underscore the power of God.
While technically an EP, three of the five selections clock in at greater than seven minutes each, giving it more of an album feel. Church Boy Soul is a studio recording that begs for a live audience.
Three of Five Stars
Pick: "He Will Take Care"