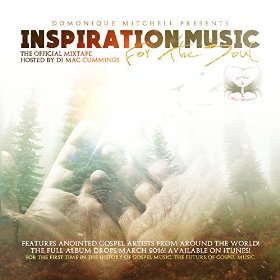 Various Artists
Domonique Mitchell Presents Inspiration Music for the Soul, Vol. 1
Gospel Rhythm (release date: April 29, 2016)
Available from digital media stores
By Bob Marovich
Presented in the guise of a gospel radio program hosted by the smooth-voiced DJ Mac Cummings, Domonique Mitchell Presents Inspiration Music for the Soul, Vol. 1 is a mixtape that surveys independent artists working in several subgenres—from contemporary gospel and urban contemporary to Christian hip hop and traditional.
Mitchell has a fascinating background. His career includes A&R work for Coastal Records and Sounds of Atlanta /Universal Records, project coordinator and co-producer of BET's Comic View, work as a professional dancer, and even a stint as bodyguard for the late Lisa "Left Eye" Lopes. Inspiration Music for the Soul Vol. 1 is his effort to showcase indie artists with whom he is associated, and for most of its running time, the project makes for an enjoyable listen.
Female vocalists shine the brightest on this nearly one hour program. Carlett Martin and Stellar Award-winning Kendra Smith ("Power") receive, and deservedly so, more than one slot on the program. Martin's "You Are" is solid, and "Unconditional Love" could have been, too, but the spoken interjections by Styleon Da Impress do more to interrupt the singer than positively contribute. Meanwhile, Tenesha Owens, "The Singing Nurse," renders the strong "It's You."
Several male vocalists stand out, also. Pastor Andre Crittenden of Chicago's "A Simple Prayer" is a finger-popping throwback with one foot in contemporary gospel and the other in a Nat Cole classic pop-jazz sensibility. Albert White's "Do You Really Know Him" is a fine singalong, and Stanley Watson's "Thank You" is a testimony-style story song.
The contemporary artists in the first half of the program just about carry the entire mixtape, while the traditional section toward the end runs out of steam with selections by lesser polished artists.
DJ Mac Cummings often fades selections out before they finish to keep the tempo moving in fourth gear, but all tracks are available for purchase individually, and in their entirety, at the mixtape's site on Amazon.
Three of Five Stars
Picks: "Power," "A Simple Prayer."