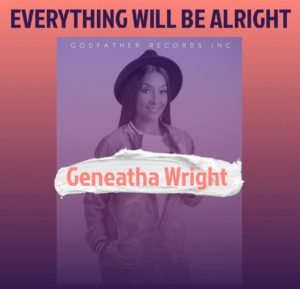 "Everything Will Be Alright"
Geneatha Wright
Godfather Records (original release: 2013; re-release 2020)
By Bob Marovich
"Everything Will Be Alright" is a soulful gospel song of hope and encouragement, released originally in 2013, by a family that has known more than its share of tragedy.
Pastor David Wright wrote this song for his wife, Geneatha "Gee" Wright, for her 2013 solo debut album, Just as I Am. The song's genesis was family tragedy. In the space of two years, Gee lost her father, Elder Horace Daughtry Sr., and David lost both his parents, Pastor Timothy and First Lady Betty Wright, to automobile accidents. At one point during the live performance, David jumps in to share a few of the sad moments, but also the inspirational insights, of these personal trials.
"Everything Will Be Alright" is being re-released as a single to provide inspiration to multitudes of people hurting today. Because we need reassurance at this time.