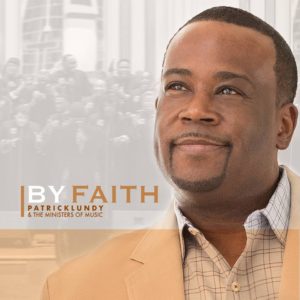 By Bob Marovich
Patrick Lundy and the Ministers of Music mix traditional and classically-infused contemporary gospel into their repertory. While their current single, the unapologetically traditional "Enter His Gates," continues to impact radio, the group has also recorded an entire album of spirituals and hymns.  This reflects Patrick Lundy's admiration for, and experience with, the full palette of sacred music.
Lundy visited with the Journal of Gospel Music while in Chicago for the annual Chorus America conference.
It was almost a foregone conclusion that Patrick Lundy would go into music as a profession. First Missionary Baptist, the church he attended as a child, was blessed with fine singers and musicians, including his pastor, Reverend Isaac Mullins, a classical tenor who sang with the Morehouse College Glee Club. The minster of music, Carolyn Henry, was a piano major. The church organist worked with the Metropolitan Opera.
Despite being around what he called "this awesome music ministry," Lundy never considered being a classical artist. In fact, if it hadn't been for his mother's persistence, he might never have continued with piano lessons, as he found the instrument difficult to master at first. But his piano proclivities greatly improved, and Lundy went on to work with Fred and Winnie Allen, founders of the Thomasville (Georgia) Music and Drama Troupe, where they did "a lot of Broadway songs and show-stopping tunes."
In January 1983, the teenaged Lundy was chosen by Reverend Milton Biggham to be a charter member of the Georgia Mass Choir. "We would literally travel all over the state of Georgia," he said, "doing rehearsals and then eventually doing concerts. Getting to meet composers and other choir directors, it was definitely another level for me."
Lundy stayed in touch with the Georgia Mass Choir even after graduating high school. For example, he took a quick time out from Howard University in Washington DC, where he was earning his undergraduate degree, to witness some of the choir's recording sessions for the Denzel Washington and Whitney Houston film, The Preacher's Wife.
While at Howard, Lundy participated in the university choir—a requirement for music majors—and also the gospel choir. "I joined the Howard Gospel Choir to soak up as much choral technique as I could," he said. "I'm fascinated with how choir directors, or choral conductors, create a sound because, at the end of the day, we use our individuality to bring voices together and blend."
The Howard Gospel Choir gave Lundy his first songwriting experience when the director, Arphelius Paul Gatling, encouraged him to write something for the group's forthcoming recording. Lundy rearranged the hymn, "'Tis So Sweet to Trust in Jesus."
"I haven't only been interested in gospel music," Lundy explained. I've always appreciated the hymns of the church, and the anthems, the spirituals—the whole gamut of sacred music."
After graduating from Howard, Lundy was determined to bring together as many gifted singers and musicians from the DMV area (DC-Maryland-Virginia) as possible. He said he sought individuals who not only had musical talent but also possessed a keen understanding that music ministry is, at its core, about "having a heart for God." The group was christened—not surprisingly—the Ministers of Music.
"We have singers, music ministers of different churches, we have praise and worship leaders, even preachers [in the Ministers of Music]," Lundy said. "The choir is a mature group of persons who understand leadership, music, and the commitment that it takes to sing at a certain level. It's a safe haven where people can come in and relax but still work at a certain level."
But there was a missing piece. "We would do concerts and people would ask, 'Where's your CD?' We didn't have one. I decided to do a demo CD with a few songs on it so people could take us home with them. Then composers like Donald Vails, Byron Cage, and Margaret Douroux said we could use their songs. So the demo turned into a CD. David Peay of Chicago, who does radio promotion, he took our CD and they started playing 'We Praise You for Who You Are' [on the radio]. Before we knew it, it was nominated for a Stellar Award!"
Lundy and the Ministers of Music were busier than ever in 2014. "We recorded Majesty, a series of anthems and spirituals, at the famous Ebenezer Baptist Church in Atlanta, where Dr. Martin Luther King's father preached. The same year, for our anniversary, we recorded By Faith. We did two CDs in one year. It was a lot. We were very ambitious!" Lundy laughed.
He wrote "Enter His Gates," the current single off By Faith, several years ago for a church choir project. Then Dottie Peoples recorded it. "We've always put all types of songs on our projects," he said, "so if radio wants a contemporary song or a traditional song, it's there. Radio decided it wanted something more traditional. 'Enter His Gates' is the traditional song.
"Church choir directors are always looking for music that they can teach and their church can gravitate to. 'Enter His Gates' is fairly simple, something you can almost listen to in your car and then go and teach it."
Lundy said that the songs he wrote for By Faith were inspired from life experiences or from being in church and hearing a sermon. "Most of us are either going into a storm, or we've been in a storm, or coming out of a storm," he said. "So there are songs [on the album] that represent life. We have some good days and bad days, but they all work together, as the Scripture says, 'for those who love the Lord and are called according to his purpose.'"
In addition to leading the Ministers of Music, Lundy is the director of Christian Fine Arts at the Reid Temple AME Church in Glenn Dale, Maryland. "AMEs are generally known for 'high church' anthems and hymns," Lundy acknowledged, "but my pastor [Rev. Dr. Lee P. Washington] is from the Church of God in Christ, so he's definitely okay with infusing all types of music into the worship experience."
At Reid Temple AME, Lundy gets to work with another COGIC-raised minister, legendary singer and director Myrna Summers ("God Gave Me a Song," "Uncloudy Day"). "I grew up under her music, singing her hits back in the day, so it's ironic that we are working together," he said. "We complement each other. She's traditional at heart and I'm kind of all of it. We have a great team of people at the church. We really work at being excellent at what we do."
In addition to his church ministry, Lundy and the Ministers of Music just completed "Tapestry of Worship," a concert in Washington DC, and then did another "Tapestry of Worship" with the Ministers of Music – Georgia Connection, a group Lundy formed about five years ago. "It was another vision the Lord gave me," he said. "It afforded the opportunity for people I grew up with in Thomasville and South Georgia, and also North Georgia, to come together and sing."
Future plans are to bring the Ministers of Music and the Ministers of Music – Georgia Connection together for the group's 25th anniversary. "We want to celebrate our anniversary in a big way," Lundy said. "We're thinking we will record. And there may be a Christmas CD coming up too." He laughed. "Obviously, we would have to finish it very quickly, because Christmas is right around the corner!"
Just recently, the group backed CeCe Winans for the A Capital Fourth taping in Washington, DC.
Today, Lundy finds younger artists and musicians come to him for mentorship. "I find that to be a great pleasure and an honor. I had people that I looked up to growing up, and now it's my turn to give back. To talk to them about the industry, about ministry, and about leadership and what it takes to lead people. You have to have a lot of patience and a lot of prayer, but God gets us through."
For more information, visit www.plundymom.com.