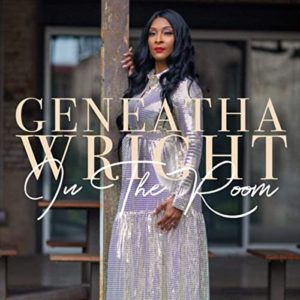 Geneatha Wright
In the Room
Godfather Records (release date: October 22, 2020)
By Robert M. Marovich
Reverend Timothy Wright and First Lady Betty Wright may be gone, but their music and pastoral legacies live on through family members, their son John David and his wife, Geneatha, in particular.
Geneatha (nee Doughtry), a singer before she joined the Wright family, has maintained a fairly consistent, if somewhat protracted , recording schedule, releasing Just As I Am in 2013, In His Presence in 2017, and re-issuing the song "Everything Will Be Alright" from her 2013 album in response to the pandemic. All of her music is on her husband's Godfather imprint.
Her latest, In the Room, offers the energetic rhythm and praise songs and dramatic ballads that have come to define Wright's style. As a songwriter, her most notable credit on the album is the title track. Its simple melody and lyric are timeless, as if they lived in a hymnbook during a previous life. Opening with churchy warbling organ, the song builds in intensity as the fiery-voiced Pastor Ricky Richardson joins Wright in a splendid duet. This one has legs.
On the title track and several other cuts, Wright recognizes the limitations of her sweet, vulnerable soprano and features a vocalist who can add the down-home sauce. For example, the raw vocal power of Janelka Williams contrasts with Wright's mellow delivery on the CCM/gospel ballad "All is Well." The song's message is that if Jesus performed miracles in the Bible days, he can do it for you today. Sabrina Shaw adds the shouting and the squalling on "The Promise," a ballad about the Lord's promise to us and ours to God's. A song of encouragement titled "The Declaration" features ever denser layers of vocals until Glenda Ancrum-Adams sets off the vocal fireworks.
I was anticipating more traditional moments on the "Hymn Medley," but it is more of a contemporary hymn survey, even though it follows a very rigorous "Praise Break."
In the Room may wear contemporary clothes in general, but within many of its tracks beats a traditional heart.
Four of Five Stars
Pick: "In the Room"