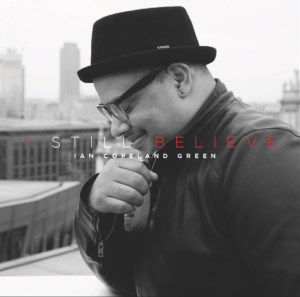 Ian Copeland Green
I Still Believe
Cyrus Records (release date: August 7, 2019)
By Bob Marovich
Ian Copeland Green's album I Still Believe may traverse different shades of gospel music, but the pop melodies, club-sized beats, and electronica of twenty-first century radio hits are the ties that bind the project together.
The artist brings his experience as praise and worship leader at a church in South London, England, to bear on his craft. The radio-sized songs are almost uniformly P&W-focused in lyric and demonstrate Green's capacity to work in a variety of styles—from the easygoing "A Hymn for Him" that evokes VaShawn Mitchell and the expansive CCM-oriented "Speechless," to the Jonathan McReynolds-esque finger-popping acoustic vibe of "Have Your Way" and the clubby "Stand Up." "Better than Good" has a Deitrick Haddon feel to its over-the-top arrangement, complete with a rap interlude from Jamaican-born reggae dancehall artist Gyamma.
The album's two standout selections are the title song and "Speechless." Both are expansively sung melodic ballads that represent the European style of gospel music, which tends to be more vertically praise oriented and liberal in its incorporation of rock and jazz sounds than the American style. Though it's changing, European gospel music also tends to take its cue from the austere hymns and anthems of liturgical churches than emotionally expressive denominations because of the centuries' long dominance of the former.
I Still Believe could have been even more effective had the leadoffs been the more boisterous "Stand Up" and the equally energetic "You Give Me Life" than the moody "A Hymn for Him." Nevertheless, the album ends on a perfect note with "By Your Stripes." Invoking Isaiah 53:5, the song features a satisfying duet between Green and the lovely-voiced Myracle Holloway (the Los Angeles singer who recently appeared on Season 17 of "The Voice") over an elegiac choral foundation. It is Green reminding the listener that freedom comes at a price.
Four of Five Stars
Picks: "Speechless," "I Still Believe"