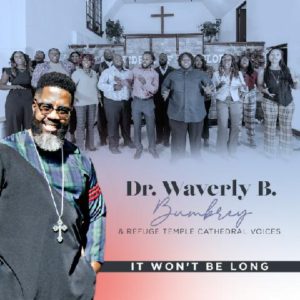 "It Won't Be Long"
Dr. Waverly B. Bumbrey & Refuge Temple Cathedral Voices
(release date: January 8, 2021)
By Robert M. Marovich
Pandemic-wise, "It Won't Be Long" feels more relevant today, in mid-March, than when it was released in early January by the award-winning choir Dr. Waverly B. Bumbrey & Refuge Temple Cathedral Voices.
But "better days are coming," the choir sings, and in the meantime they will shout and pray about it. Featured soloist Erica Lancaster improvises breathlessly on the theme as the Voices repeat the mantra, "It Won't Be Long." In his raw and craggy voice, Dr. Bumbrey exhorts worshipers to praise with their hands and feet. As such, the song moves forward not so much on the wings of a melody as on a relentlessly chugging pulse.
The ensemble comes from the Refuge Temple Cathedral of His Glory COGIC in Detroit, Michigan. Bumbrey is pastor under the jurisdictional leadership of Bishop J. Drew Sheard.