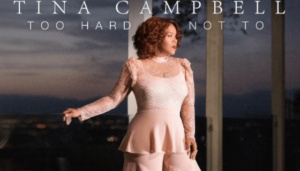 "Too Hard Not To"
Tina Campbell
Malaco Music Group / Gee Tee Creative (2017)
www.malaco.com
By Bob Marovich
Tina Campbell's new single, "Too Hard Not To," feels like an intimate girlfriend-to-girlfriend conversation about the difficulty, and also the importance, of forgiving and forgetting. The intimacy not only comes from the song's lyric, but also from the stripped down acoustic piano accompaniment.
Delivering the lovely melody with grace and tenderness, Campbell reminds the listener that no matter how bad a situation gets, no matter how hard it is to forgive those who have done the unthinkable to you, there's "someone so loving and someone so selfless [who] will help you when you're ready to restart."  Those who know about the personal issues Campbell has wrestled with will understand why this particular message resonates with her.
Campbell, one-half of the award-winning gospel duo Mary Mary, wrote the song with brother-in-law Warryn. She debuted it on Friday, July 28, on "Get Up! Mornings with Erica Campbell," a radio program hosted by her sister and Mary Mary's other half.