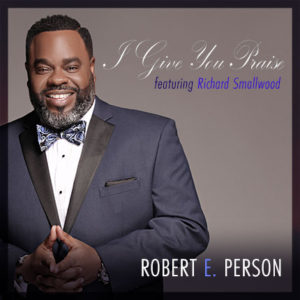 "I Give You Praise"
Robert E. Person feat. Richard Smallwood
From the forthcoming REP album Classic Covers
www.roberteperson.com
By Bob Marovich
Covering Richard Smallwood's composition "I Give You Praise" is commendable. Having the maestro himself accompany on piano is inspired.
Originally released by Smallwood on his 1989 album Portrait (Word Entertainment), "I Give You Praise" combines the drama of high theater with the passion of high church in offering plaudits to the Most High.
Vocalist Robert E. Person's classical training is in evidence on this version from the quiet opening to the expansive coda. Roderick Giles & Grace, who accompanied Bryan Andrew Wilson recently on his single "Overflow," provide the restful background vocals here. Hands down, this is Person's best work to date.
Hearing "I Give You Praise" gets me to thinking, once again, that there really ought to be a compilation featuring various gospel artists interpreting the greatest songs of Richard Smallwood. This recording would belong on it.