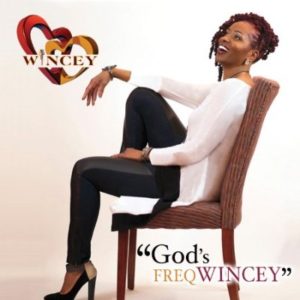 "God's FreqWincey"
Wincey
From God's FreqWincey (released in 2015)
www.winceycomusic.com
On her new single, "God's FreqWincey," Wincey Terry-Bryant plays off her first name to testify about how prayer gives her a clearer focus on her past, present, and future.
The song has a breezy California vibe and Wincey's singing has the light touch of fellow Newark native Dionne Warwick. Wincey has healthy doses of performing experience, having worked in the television and film industries, and even recorded with jazz great Grover Washington Jr.
Being on "God's FreqWincey" certainly enables Wincey to do plenty of important work. She runs a nonprofit called Nanababies that brings arts programs to underserved populations. Winceyco is her performing arts troupe. She also produced a cartoon DVD and wrote a children's book on bullying. For her estimable efforts, Wincey was named the KISS FM Phenomenal Woman Award, among other accolades.  And you think you're busy?!