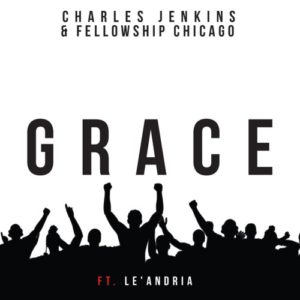 "Grace"
Charles Jenkins & Fellowship Chicago feat. Le'Andria Johnson
Inspired People, LLC (release date: July 7, 2017)
Available from digital media outlets
By Bob Marovich
Pastor Charles Jenkins & Fellowship Chicago's "Grace" feels like a quicker-tempo version of Kirk Franklin's "I Smile" with its plinky piano, chirpy melody, finger-popping rhythm, and unison singing.
The choir declares that they don't look like what they've been through, and it's because of God's favor. God has brought them from a mighty long way. They're blessed by the best.
Then Le'Andria Johnson jumps in and drops a healthy helping of righteous southern soul on the proceedings. Her testimony is more direct: "I don't deserve it. . .I made some mistakes and I'm not right all the time." Her gutsy growl on the line "Thank you Lord for keeping me" is reminiscent of Mavis Staples's Muscle Shoals work for Stax.
Le'Andria gets the final word; after navigating a Sam Cooke gospel yodel, she offers simple praise: "Thank you for being sweet to me."  Traditional meets contemporary on this one, and they go together like biscuits and gravy.