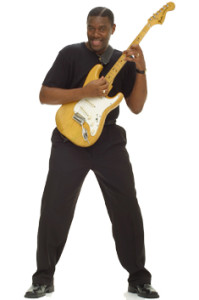 By Bob Marovich for The Black Gospel Blog.
Scan the liner notes of a gospel CD and chances are you will see the name of Jonathan DuBose, Jr. listed among the musicians. Not surprising: DuBose has been an in-demand guitarist in the sacred and secular music arenas for many years.
DuBose recently spoke with TBGB about his beginnings, where his career has taken him thus far, and his passion for "C.A.U.S."
Beginnings in Bridgeport
Born December 12, 1960, DuBose first picked up steel string guitars at age four when his mother and father, quartetter Jonathan DuBose Sr. of the Sensational Starlights of Bridgeport, Connecticut, would take him to the quartet's weekend engagements.
While the audience was soaking in the Starlights' tight harmonies, young Jonathan was listening intently to the guitar players, one in particular.
"My uncle Willie Edmond played the guitar in such a way that it made me want to be like him," DuBose recalled. "Uncle Willie played with reverb and tremolo. He used a tremolo bar, or what we call a 'whammy bar.' He produced a reverb chamber echo sound. That's what piqued my interest, and to this day, I play with echo and reverb."
Secular musical influences DuBose picked up along the way, mostly from his mother's side of the family, included Sam Cooke, James Brown, and Archie Bell and the Drells. "I became familiar with secular music as well as gospel music." He also learnt guitar music theory at this age and this made it easier for him to pick up and play the guitar and freestyle without learning songs!
From listening to performing: at age eight, DuBose took the stage with the Sensational Starlights. "One day the guitar player, Benny Graham, couldn't make it. I sat in for him and before you know it, I started to play live. Then somebody else saw me play and asked my father, 'Could your son play for us?' My father said, 'Sure…if you guys pay him!'
"The more people who heard me play, the more my service and presence was requested. That's how I started getting out."
Among the artists who learned of DuBose's emerging talent were Walter Hawkins and the Hawkins Family.
In 1982, the late Willie Smalls of New Haven, Connecticut asked DuBose to accompany his singing group, which was scheduled to perform at the Edwin Hawkins Music + Arts Seminar in Atlanta, Georgia. "When I got [to Atlanta], I saw the Hawkins Family musicians rehearsing, but they didn't have a guitarist. So I asked if it was alright if I plugged in. I plugged in and played what I felt. At the end of the song, 500 people gave me a standing ovation."
Walter Hawkins was so impressed with DuBose, he invited him to move to California to work with the Hawkins Family. "When preparation meets opportunity, it brings upon success," remarked DuBose.
Since then, the guitarist has worked with some of the top talents in the music industry. At one time, he was on the road approximately six months of the year, touring as a musician with the likes of Harry Connick, Jr., Tramaine Hawkins, Jennifer Holliday, and the late Phyllis Hyman.
DuBose reckons he has performed on approximately 120 projects in the twenty-five years he has been in the music business. CDs by artists such as Donald Lawrence, Hezekiah Walker and Richard Smallwood have benefited from his guitar styling. DuBose was also part of Kim Burrell's Everlasting Life, an album he calls "trendsetting…it changed the course not only of gospel music, but it introduced a brand new category called C.A.U.S.: Classified As Universal Sound."
The Effect of C.A.U.S.
C.A.U.S. is one of DuBose's major passions. "I was playing for Harry Connick, Jr. We were in New Zealand at the time, and all of a sudden, I got a premonition to come up with a new style, a new sound: C.A.U.S., or 'Classified As Universal Sound.'
"This is music that the Lord has given me. C.A.U.S. can deliver people from their various dilemmas. It's a stew of gospel, R&B, classical, jazz, hip hop, pop, Latin music, country music, all these different styles thrown into one pot, stirred up, and served as C.A.U.S. music. The Kim Burrell record was the very first record to come out under this C.A.U.S. production."
DuBose's own solo CD, Expect the Unexpected, contains the essential elements of C.A.U.S. "It has gospel overtones and the lyrical content is based on the truth, but the musical style is a mix of every style. The record company was trying to figure out what category it would fit, but we told them that it's so vast, we had to create a category for it. If you wanted to learn how to play this yourself in a similar style consider getting some guitar lessons Omaha but I digress.
"I believe C.A.U.S. music will become the new sound of gospel music," DuBose continued, "especially for young musicians who want to demonstrate their gift and talent. They can bring in a Latin sound, mix it with reggae, and have a unique product. The beautiful part is that the lyrical content is based on the truth. It is based on the word of God, based on Jesus Christ. That's what makes gospel music gospel music. It's about uplifting the name of Jesus Christ. It's about making people aware that He's alive today. That's why we use different musical genres: so we can reach as many people as possible."
DuBose's new record, The Victory is Won, has been released under his own label, JoBo Enterprises, and is available at http://www.jdubose.com/. He is also busy performing and engineering guitar tracks for a variety of artists' projects, all from his home studio. "I prefer being a studio musician more so than being a live musician because the final product is as perfect as I can make it."
In addition to guitar, DuBose plays bass, some keyboards and can program the drums, "so I'm kind of like a one man band. I like challenging myself to play as much as I can, but when I recognize that I fall short, I will call someone else and ask him to help me. "
As if he wasn't already scheduled to the hilt, DuBose has taken time to write his autobiography, Roots, Branches and Vines, and is now pastoring a church, Agape House Fellowship. Holding its first worship service last month, Agape meets Saturday evenings at 7:00 p.m. at Winston Tabernacle at 265 Colorado Avenue in Bridgeport, Connecticut.
"We're very musical," DuBose said. "We even do songs that were popular in the Sixties and Seventies to convey the message of the evening, such as Kool and the Gang's 'Celebrate' and the O'Jays' 'Love Train.'"
And Agape, DuBose explained, is a "texting church."
"When I get ready to preach my message, I ask everyone to take out their cell phones, compose the text I will be preaching, and send it to one person of their choice. They hit 'send' on the count of three. Everyone who sent that text just became a disciple. I can't reach everyone they've texted to, but I can give them the background on what to say when they get a response."
To learn more about Jonathan DuBose, Jr. "the prophesying guitarist," visit his website: http://www.jdubose.com/.