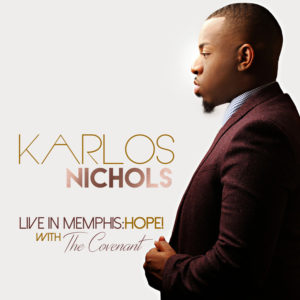 Karlos Nichols
Live in Memphis: Hope!
With The Covenant
The Kane Group (release date: August 16, 2016)
Available from Amazon.com
By Bob Marovich
Live in Memphis: Hope! is the debut album by Karlos Nichols, a Memphian who received his music education in New York City and came home to impact his community as a preacher, educator, songwriter, singer, director, musician, and clinician.
Covenant is a small mixed choir that ably supports Nichols on this album of mostly original songs (all but one was written or co-written by Nichols).
One Covenant member in particular, Britne' Brown-Lauderdale, is a classic squaller. Her work greatly accentuates the album's most radio-friendly track, "I Am Changed," though in truth, the debut single is "Here I Am," a song about offering one's entire self to God, scars, fears, and all.
The ensemble falls within the currently fashionable male-led small mixed choir category, with Nichols as the leader who sings, speaks, or preaches the call and the choir responds. The musical accompaniment is contemporary gospel performed at various levels of intensity, though the group's delicate work on "I Love to Call Your Name" is the most affecting. With its whisper-to-a-shout transition and interpolation of the hymn, "Holy, Holy, Holy," the song could easily have gone on longer without losing the listener's interest.
"Made It" is another remarkable selection, a song of gratitude with delectably gritty singing from Ashley Mackey. Musically, "Just One Touch" is the most interesting, with jazz chords and jazz changes not often heard in gospel music.
The only non-original song on the album is a throwback snippet of Charles Nicks' St. James Choir favorite, "I Really Love the Lord," though I would have preferred to hear the entire piece, not just the vamp, which really doesn't do the rest of the composition justice.
Lyrically, Live in Memphis: Hope! delivers on its promise to offer songs of faith and encouragement ("Everything's Gonna Be Alright" and "Made It" are the most explicitly hopeful), and is a fine introduction to Karlos Nichols and his music ministry.
Four of Five Stars
Picks: "I Am Changed," "Made It."